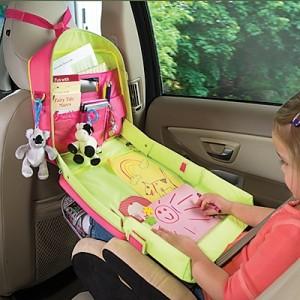 Keeping the kids engaged and entertained when on the road? Here's a smart all-in-one must-have to house all that gear. The Little Travelers Tray Kit is a sleek mobile storage for everything from toys, art supplies and even those popular gaming devices.  But it's more than just a bag.  Unfold this kit and it turns into a makeshift activity center.
The raised edges provide a small barrier to help prevent items from rolling off little laps. Velcro straps help secure the tray to the back of your vehicle's front seat. With five pockets, there's ample storage to keep it all items organized. When the fun wraps, kiddos can conveniently tote their must-haves around like a backpack.
This tray kit is recommended for ages 3 and up; $30 at www.onestepahead.com.