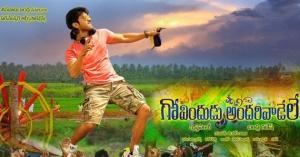 BUY NOW! Atharintiki Daredi Official Merchandise

@CelebOutfit
Enjoy reading cinecorn.com on your Smartphones. Download the FREE App right now.

Android App

/

iOS App
On day 4, Govindudu Andarivadele continued the trend it has been exhibiting from the past couple of days (slow to begin but getting better as the day progresses). However unlike yesterday where it was going full's across the board, the smaller centers had lesser occupancy on fourth day, especially in the Andhra regions. This drop in Andhra was compensated in a big way by Nizam which came into its own gradually from morning shows and ended up being sensational in the end. Ceded was one territory which continued from where it left yesterday.
Overall early estimates suggest Day 4 to be little less than 4 Cr due to the marginal drops in Andhra territories. How much less or how close to 4 Cr mark the day has ended, is entirely up to the final numbers coming from Nizam. Keep checking this space as we update the numbers further.
Here are the Day 4 figures from various territories.
Krishna – 25 L Nellore – 14.20 L Guntur – 28 L