February 2014
Long ago, I made my sister a cheesy, craft-fair style plaque boasting "I'd give up chocolate, but I'm no quitter."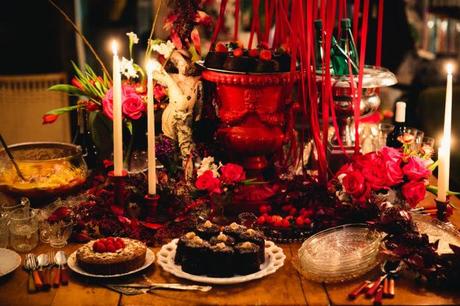 Photo by Joey Kennedy.
As country craft as that little plaque may have been, truer words about our family were never spoken. Persistance and chocolate were probably secretly woven into our Kogel crest, so my birthday would not have been complete without an element of chocolate, especially when the theme for my 30th was Garnets & Ganache.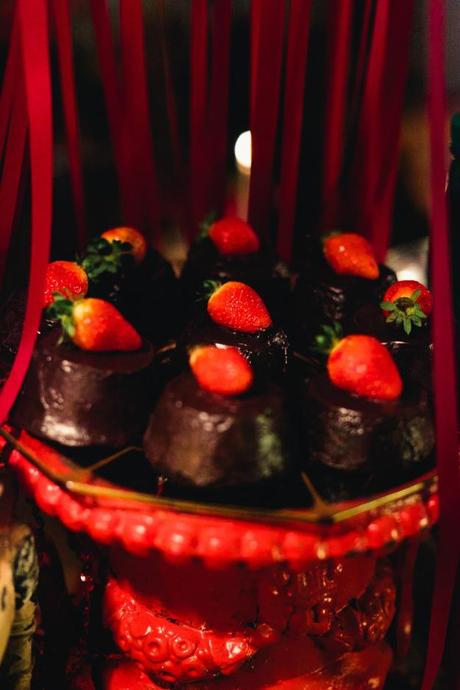 Photo by Joey Kennedy.
As part of my birthday cake tradition of making one, miniature, beautiful cake for each year of life, I used a large cupcake pan and inverted the cupcakes to create these decadent cakelettes. Follow suit if you're feeling fancy, or follow the instructions for a layered 8-inch cake (which is fancy in its own right).
Whole-Wheat Chocolate Cake with Espresso Ganache
Ingredients
Butter, for greasing the pans
1 3/4 cups whole-wheat pastry flour, plus more for pans
2 cups organic evaporated cane sugar
3/4 cups pure cocoa powder
2 teaspoons baking soda
1 teaspoon baking powder
1 teaspoon kosher salt
3/4 cup organic greek yogurt
1/4 cup organic milk
1/2 cup olive oil
2 extra-large, organic eggs, at room temperature
1 teaspoon pure vanilla extract
1 cup freshly brewed hot coffee or espresso
Directions
Preheat the oven to 350 degrees F. Butter two 8-inch x 2-inch round cake pans or cupcake pans. Line with parchment paper, then butter and flour the pans.
In the bowl of a mixer, whisk together the flour, sugar, cocoa, baking soda, baking powder.
In a separate bowl, combine the yogurt, milk, oil, eggs, and vanilla.
With the mixer on low speed, slowly add the wet ingredients to the dry.
With mixer still on low, add the coffee and stir just to combine, scraping the bottom of the bowl with a rubber spatula.
Pour the batter into the prepared pans and bake for 35 to 40 minutes, until a cake tester comes out clean. Cool in the pans for 30 minutes, then turn them out onto a cooling rack and cool completely.
Pour warm ganache over the cakes and form a layer cake, or spread evenly over the cupcakes.

Espresso Ganache
8 ounces good semisweet chocolate chips
1 heaping teaspoon instant coffee granules
3/4 cup heavy cream
Directions
Bring the cream and coffee granules to a boil, in a saucepan over medium heat.
Remove from heat and add the chocolate, whisking to combine. Allow to cool slightly before pouring over cake.

Bon Appétit!
-Quelcy