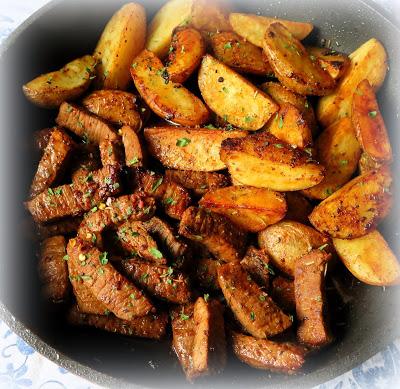 This recipe is one that I found and pinned from
this site
a long time ago.  I finally got around to making it for our Sunday dinner yesterday and it was every bit as delicious as it looked.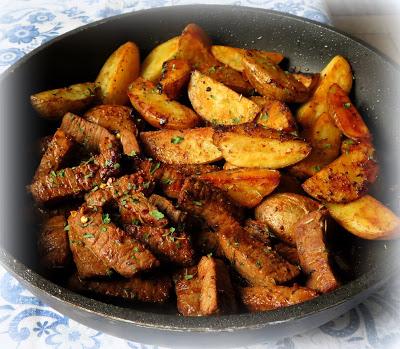 I never used to have time to cook a big meal on Sundays because that was the day I always called my mom. I really miss those Sunday phone calls (as you can imagine), so it was nice to be busy and cooking so I didn't have time to sit and think.  Todd didn't mind.  He likes a nice meat and potatoes kind of meal.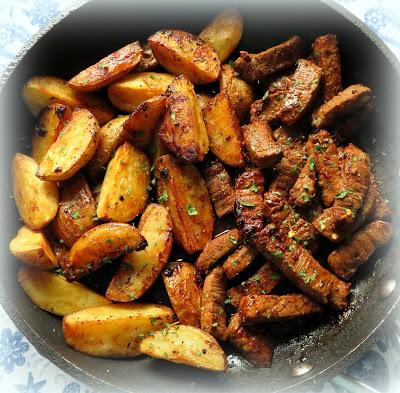 I have to admit I am a huge fan of steak and potatoes also.  Especially when they are as delicious and as quick to throw together and cook as this one was.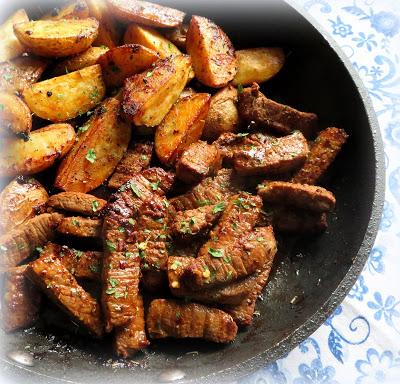 The original recipe called for flank steak cut against the grain.  Flank can be rather hard to find over here, so I used rump steaks, which worked beautifully.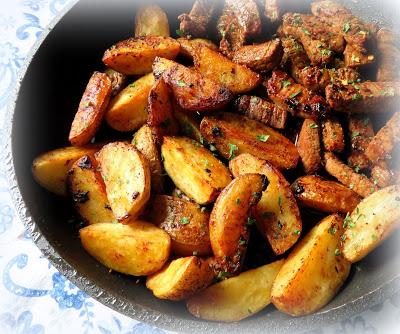 I also used the last of the garden potatoes.  They were starting to just show signs of sprouting, so it was really fortuitous that everything was in place to use them up.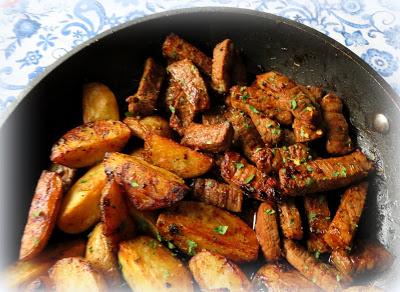 The steak is sliced and marinated in a soy/srirachi marinade while you cook the potatoes.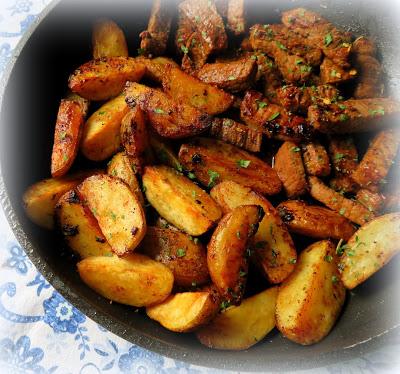 I cut down on the amount of fat used altogether, and it worked out quite well.  The thing with the potatoes, is not to agitate them.  Just bang them into the pan, one cut side down and then leave them (medium heat) for about 6 minutes or so until golden on that side, and then flip them over to the other cut side and do the same on that side.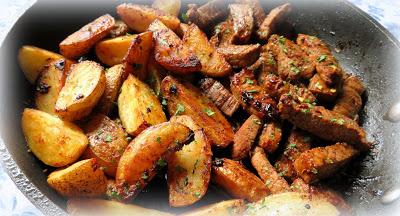 We can be such impatient creatures sometimes and mither (agitate) things while they are in the pan . . . just leave them, and you will get much better results.  I tend to go off and do something else so I am not tempted to keep flipping things.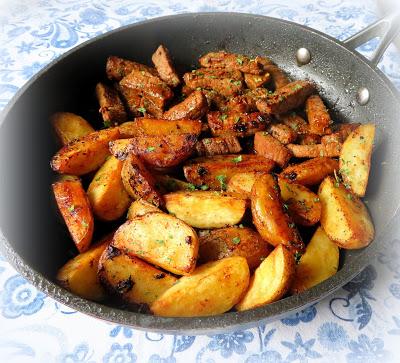 The original recipe suggested that you could also par-boil the potatoes if you wanted them to cook quicker.  I didn't think this was really necessary and as you can see I got beautifully golden brown potatoes.  My patience was rewarded big-time!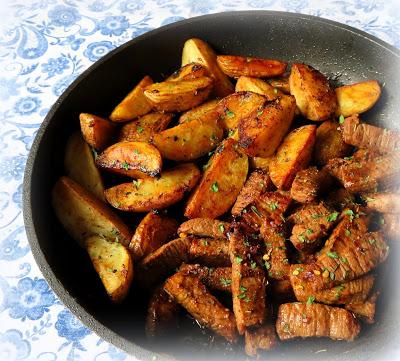 I chose to do the steak in batches, browning only half of the steak strips at a time.  I figured that if you tried to do them all at once the first ones you put into the pan would be overcooked by the time the last bits were done.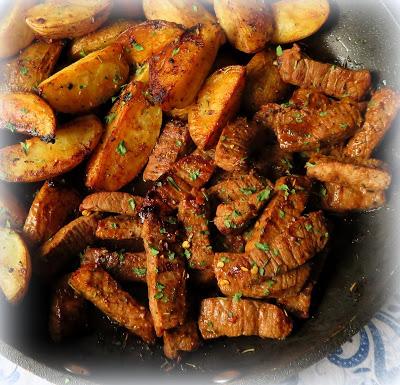 It was just common sense to do them half at a time . . .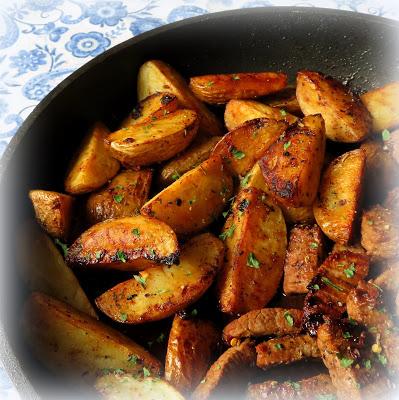 The end result was perfectly cooked bits of steak.  There is nothing tougher than an over-cooked piece of steak!  Not appealing in the least!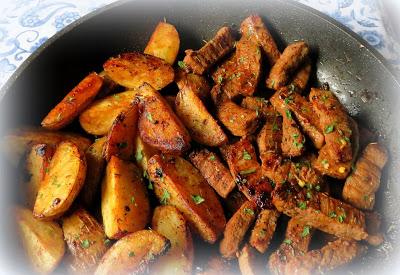 Unless you happen to like your steak well done  . . .  we don't.  Medium rare is how we usually enjoy it!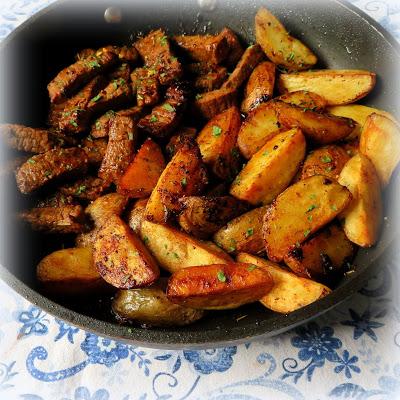 We both really,
really
enjoyed this meal.  It went down a real treat!
Yield: 3 - 4
Author: Marie Rayner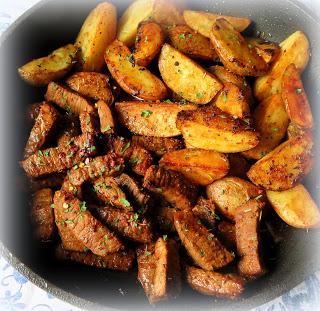 Garlic Steak Bites & Potatoes
prep time: 10 mins
cook time: 15 mins
total time: 25 mins
This simple recipe goes together in a flash. You can be enjoying tender juicy and flavourful steak and potatoes in very short time. All you need is a salad or vegetable on the side and dinner is served!
ingredients:
650g rump steak, sliced into 1/2 inch strips against the grain (1 1/2 lb)
65g baby potatoes, cut into quarters (1 1/2 lb)
1 TBS olive oil
2 TBS butter, divided
5 cloves garlic, peeled and minced
1/2 tsp each dried thyme, rosemary and oregano
salt and freshly ground black pepper
crushed red chili flakes (optional)
For the steak marinade:
80ml soy sauce (1/3 cup)
1 TBS olive oil
1 TBS Sriracha sauce
instructions:
Whisk together the steak marinade ingredients in a bowl.  Add the steak strips and set aside to marinate while the potatoes are cooking.
Heat 1 TBS butter and olive oil in a large skillet until the butter begins to foam.  Add the potato wedges, one cut side down, and cook for about 6 minutes or so until golden brown on that side, then carefully turn them over and cook for a further 6 minutes or so until golden brown on that side and the potatoes are tender.  Remove carefully and keep warm.
Add the remaining TBS of butter, garlic, dried herbs and red chili flakes if using.  Add the steak strips (work in batches if necessary) and cook over medium high heat for about one minute before flipping over and browning the other side. (I did mine in two batches)  Pour any reserved marinade over top and return the potatoes to the pan. Heat through.  Adjust seasoning with salt and black pepper.  Serve immediately.
Created using
The Recipes Generator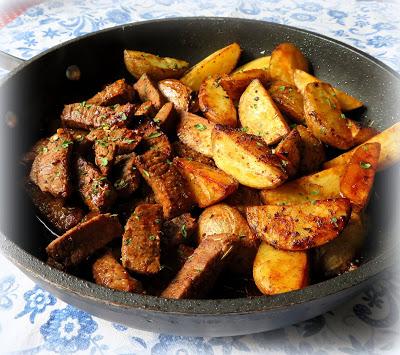 I dare say this would make a tasty addition to a Valentine's Dinner Menu if you were so inclined, and were looking for something that was delicious, but not too time or labor intensive.  I have always thought you can't go wrong with steak and potatoes!  Bon Appetit!