In love with garlic? In love with bread? Looking for a perfect perfect bread to have with your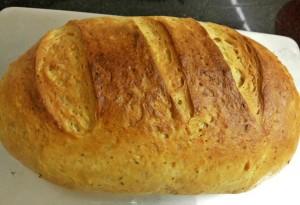 soup?…your search ends here
Recipe:
Ingredients:
12 cloves garlic, peeled (if you like garlic like me, can take more than 12  )
1 1/2 cups milk
4 cups flour (maida)
1 tsp salt
2 1/4 tsps active dry yeast
1 tbsp dried mixed herbs
2 tbsps oil
1 egg, beaten
Milk, for brushing
Method:
Place the garlic cloves and milk in a saucepan, bring to a boil, and simmer gently for 15 minutes.
Keep aside enough milk to proof the yeast and cool the rest slightly, then process in a blender or food processor to puree the garlic.
Sift the flour and salt into a large mixing bowl and stir in the yeast and mixed herbs.
Add the garlic-flavored milk, oil and beaten egg to the dry ingredients and mix everything to a dough. Place the dough on a lightly floured counter and knead lightly for a few minutes until smooth and soft.
Place the dough in a greased bowl, cover, and let rise in a warm place for about 1 hour, or until doubled in size.
Punch down the dough by kneading it vigorously for 2 minutes.
Shape into a loaf (or 8 rolls) and place on a greased cookie sheet.
Using a sharp knife lightly score 3 slits in the dough, cover with a tea towel and leave for 15 minutes.
Brush the loaf with a little milk and bake in a preheated oven at 220°C/425°F for 20-25 minutes, or until golden brown.
Transfer the loaf to a wire rack and cool completely before serving.
Tastes delicious served warm with butter.
-Courtesy Padma Anagol