This post may contain affiliate links. Please read my disclosure.
This Garlic Bread Grilled Cheese with French Onions is the ultimate gooey cheesy indulgent sandwich with a healthy twist. Packed with flavor and done in minutes, it's comfort food at its best!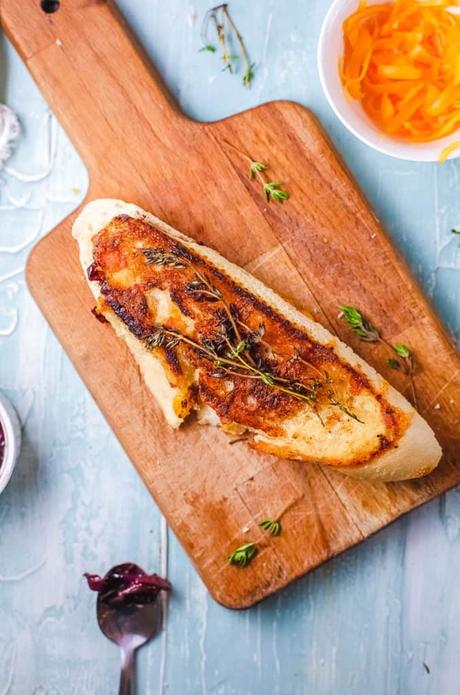 French onions are really to die for! Usually french onions are made with a lot of butter, but to keep this sandwich on the healthier side I swapped some butter for stock. It prevents the onion from burning without adding a ton of extra butter.
I also like to add the wine to help with caramelization, so the process of cooking it is faster than the traditional one.
What really puts this sandwich on the map is the garlic bread! I mean who doesn't love dipping garlic bread in French Onion Soup! Putting it all together to create the ultimate grilled cheese is something you don't want to miss!
Tools and Equipment You'll Need
How to Make Garlic Bread Grilled Cheese with French Onions - Step by Step
Step 1: Prepare the onions. Heat olive oil in a large skillet over medium heat. Add onions and cook until transparent and fragrant, about 8 minutes. Add stock and let it simmer until it completely disappears. Pour wine and let it reduce. Remove from heat.
Prepare garlic butter. Combine 5 tsp of room temperature butter with one clove of minced garlic, and salt and pepper to taste.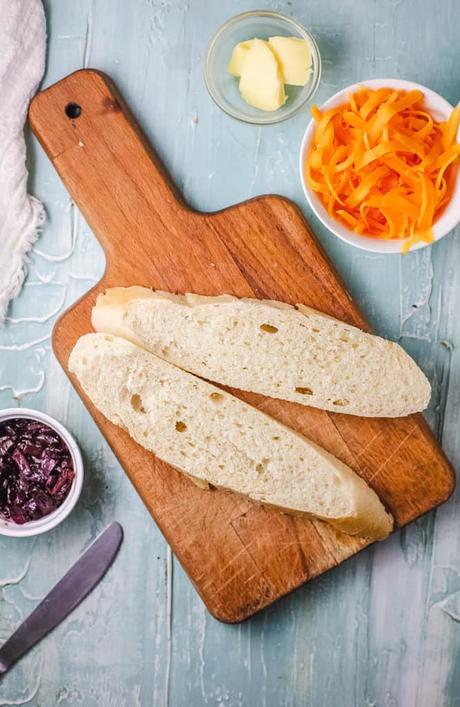 Step 2: Assemble the garlic bread grilled cheese sandwich. Top a slice of bread with around ¼ cup french onion and ¼ cup cheddar cheese.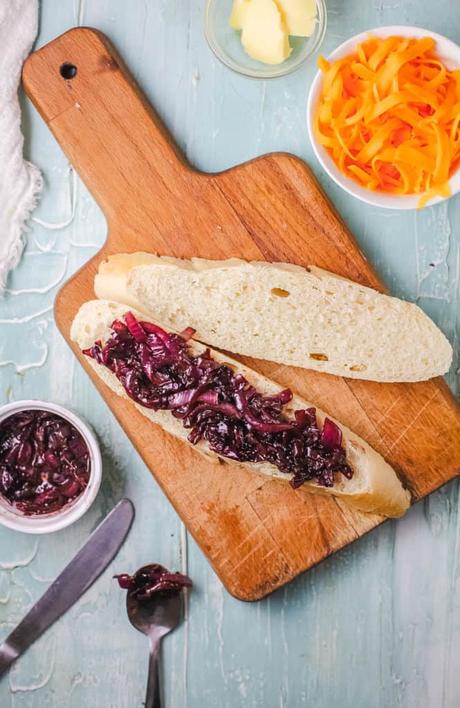 Step 3: Cover with another slice of whole grain bread. Spread ½ tsp of garlic butter on the outer layer of both slices of bread (you'll use 1 tsp per sandwich). Repeat the process to create 4 sandwiches.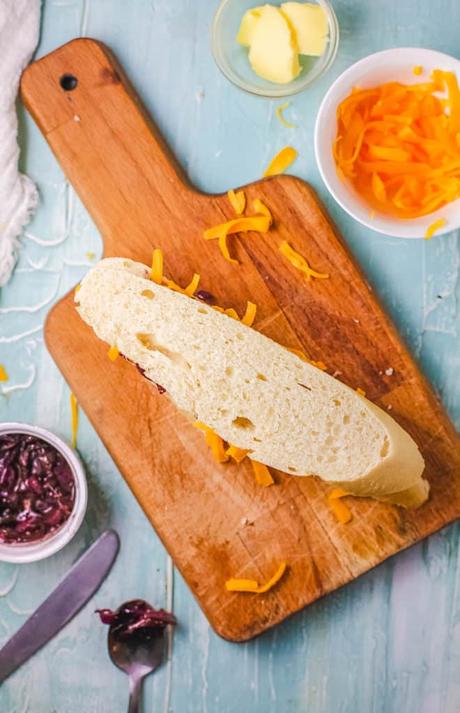 Step 4: In a large skillet over medium heat melt the remaining 1 tsp of butter. Add the thyme sprigs and cook for 2 minutes or until fragrant. Place the sandwiches in the skillet and cook for 3 minutes per side or until golden brown.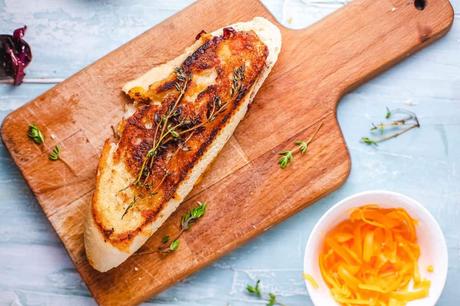 What makes this Garlic Bread Grilled Cheese with French Onions healthy?
Lower in Fat and Calories: Using less butter to create the caramelized French onions and reducing the amount of cheese (you don't need as much with those delicious onions), lowers the overall fat and calories in this grilled cheese.
Higher in Fiber: By using whole grain garlic bread this grilled cheese has is a higher in fiber and nutrients.
Rich in Vitamins and Nutrients: Adding the French onions not only improves the flavor, but also adds vitamins and nutrients such as Vitamin C, folate, Vitamin B6, and potassium.
Will kids enjoy this Garlic Bread Grilled Cheese?
My kids are crazy for grilled cheese sandwiches, and this one is no exception. I know some kids can be picky about onions. My kiddos barely noticed the onions because when they're caramelized they become so sweet and delicious and lose their pungent flavor.
If your kids aren't into onions, you can leave them off their sandwiches and just go for the garlic bread and cheese!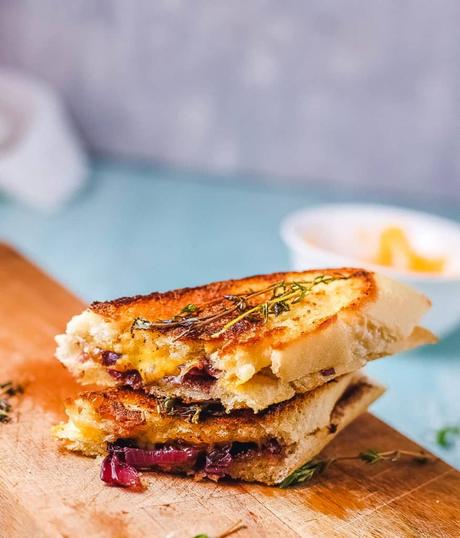 What is the best cheese for a grilled cheese sandwiches?
This recipe calls for cheddar cheese. You can go for a sharp cheddar or medium cheddar depending on your preference. I prefer the sharp cheddar as it holds its own with onions and garlic bread.
Other great cheeses to use include provolone, Monterey Jack, Colby, or even Munster. All have distinct flavors, but the real key to a great grilled cheese is to use a cheese that melts well to create that gooey stringy goodness when you pull the two halves apart!
How do you make garlic butter from scratch?
Step 1: Bring butter to room temperature by placing stick of butter on your counter.
Step 2: When butter has come to room temperature add it to your food processor along with 5 cloves of minced garlic, 1/2 tsp salt, 1/4 tsp pepper and 3 tbsp of freshly chopped parsley.
Step 3: Process until all ingredients are combined.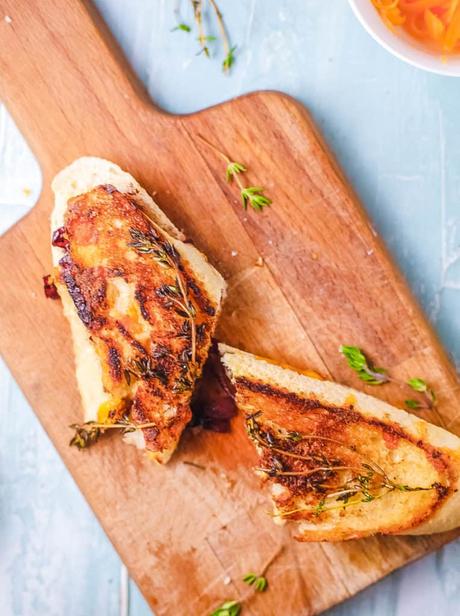 What do you serve with Garlic Bread Grilled Cheese?
This ultimate grilled cheese needs a light side. Try some of these suggestions:
Cesar Salad
Mixed green salad with light vinaigrette
Steamed veggies such as broccoli
Freshly sliced veggie sticks
Top Tips for Making Garlic Bread Grilled Cheese
Prepare your garlic butter before assembling grilled cheese.
Prepare the onions in your large skillet, then transfer to a bowl. Wipe clean with a paper towel, and then use the same skillet to prepare the grilled cheese sandwiches.
Be sure pan is preheated to medium-high heat before adding grilled cheeses.
To make gluten free, just use a gluten free bread!
Serve with a side of veggies for a complete and healthy meal.
Check out these other healthy and indulgent sandwiches!
If you have tried this Garlic Bread Grilled Cheese with French Onions, or any other recipe on my blog, then please rate it and let me know how it turned out in the comments below! You can also FOLLOW ME on FACEBOOK, TWITTER, INSTAGRAM and to see more delicious, healthy, family friendly food!
Garlic Bread Grilled Cheese with French Onions