These little bread knots are just incredible.  Its amazing dipped in soup and even better just devoured by themselves.  I give them a toss in the garlic oil, but feel free to brush them instead.  I really like them soaked in garlic and herb oil, but that's just me.
GARLIC AND HERB BREAD KNOTS – 10 knots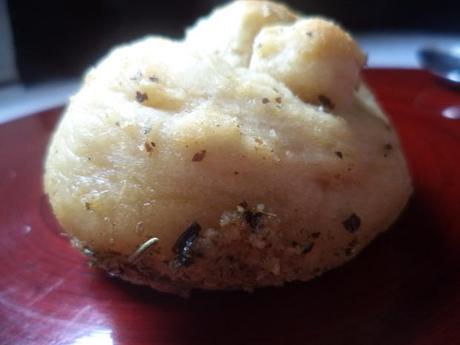 Ingredients
3 cups all purpose flour
1 sachet instant yeast
1 tbsp sugar
1 tsp salt
1 cup warm water
1 tbsp oil
Directions
In a small bowl combine the water, sugar and yeast, stir and let sit for 10 minutes or until foamy.
In a large bowl combine the flour, salt and yeast mixture.  Combine until it forms dough.  Coat with oil, cover and let sit for 30 minutes.
Preheat oven to 400.F.
Punch the dough down and start forming your knots.  Place on baking sheet and bake for 12-15 minutes or until golden brown.
Garlic and herb coating
4 tbsp extra virgin olive oil
1 tbsp nutritional yeast – optional
4 cloves garlic, minced
1/2 tsp dried basil
1/2 tsp dried oregano
Combine all ingredients in a bowl and toss the hot knots in the mixture until well coated.
Have a great weekend!