It's not often you get the opportunity to travel from one end of the footballing spectrum to another in just a few hours.  But today was one of those days.  After the highs of Lewes's win at Wingate & Finchley yesterday it was a rude awaking at 3am for the trip to Madrid, on the first flight out of Terminal 5 at Heathrow airport.  So early was the departure that I had the BA lounge to myself for a good 15 minutes.  Still no Marmite though, but that is another story.  As the plane hugged the Atlantic coast of France I looked back on my previous trips to the Spanish capital, each memorable for different reasons.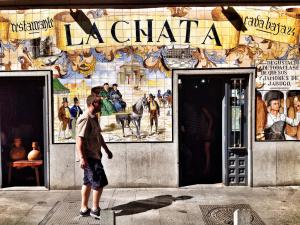 In 1998, the Current Mrs Fuller and I made our first ever trip to Madrid on Debonair.  Remember them?  They flew from London Luton and went head to head with Easyjet for a number of years.  We pitched up in the middle of the Summer, not realising how hot Madrid could be.  A tour of the Bernabau raised temperatures even more, although the roof-top swimming pool of the Emperador was certainly a bonus (Madrid tip number 1: Not only an excellent rooftop pool but a huge buffet breakfast).
Two years later and we were back again.  In lieu of Christmas presents to each other we had invested in four consecutive weekends in European destinations that just happened to have four of the biggest football teams in Europe.  Milan, Madrid, Munich and Rome.  What an outstanding month.  Only it seemed such a good idea when we booked it in July.  Come January time and CMF was "just" five months pregnant.  Not handy for walking up to the top tier of the San Siro but she was a trooper and so I decided to treat her to a seat in the lower tier at the Bernabau.  Oh how she enjoyed sitting in the Fondu Sur with flares for company.  Nobody has ever mentioned that passive flare smoke is bad for unborn babies so that is OK.  In those days the East side of the stadium only had three tiers, rather than the five elsewhere.
Four years later and I was back to help Spain celebrate their 500th fixture.  And how were us party guests treated?  With water cannons in the streets around the ground, unprovoked baton assaults on the fans in the stadium and the racial abuse of Ashley Cole and Shaun Wright-Phillips.  The actions of the Spanish police went unpunished although their FA were fined $87,000 for failing to act on the abuse from the crowd. So that makes it all alright then.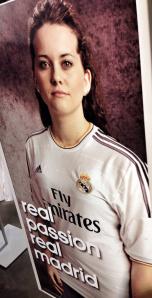 The last time I was in the stadium was for a tour back in 2009, the day after England's latest Iberian defeat, this time in Seville.  Toothache was my abiding memory of this visit.  Well when I say toothache I really meant whopping big infection in my root canal.  Happy days indeed.
Our first stop would be in the south-western suburb of Carabanchel, famed the country over for the location of one of Spain's most notorious prison which was finally demolished five years ago.  Today, with the sun shining it was a typical suburb of Madrid.  A small market was set up outside the metro station, some old chaps played cards for matches and taxi drivers snoozed in their cars.  Our destination was the Campo de la Mino, one of the oldest stadiums in Madrid for a Sunday morning local derby in the Tercera Division, Group 7…or the fourth tier of Spanish football to you and me.
Carabanchel 1 Los Yebenes 1 – Campo de la Mino – Sunday 22nd September 2013
We had just missed kick off when we arrived, but the good news was we were still in time to take part in the half time raffle to win a whole leg of Iberian cured pork.  Perfect for a day when the mercury was topping 30 degrees.  The Campo de la Mino didn't look like one of the oldest stadiums in Madrid. In fact it looked the most modern little stadium in the whole of Spain, complete with a 3G pitch and a nice stand.
The club seemed to be pretty happy playing at this level, having only spent  two seasons at a higher level, between 1995 and 1998 and based on this game you can see why.  This was their fourth draw in five games this season, and despite all of their efforts, they only really created one chance, which was a late penalty they converted to level the visitors strike which could have been the best goal ever but Danny and I were in negotiations at the gate over the terms and conditions for the half-time meat raffle.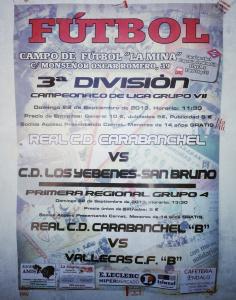 The highpoint, apart from the raffle, was half-time.  As you should do in any event in Spain, we simply went with the flow.  There was no club house in the Mino, so everyone piled across the road to the bar, where for €3.60 we had two cold beers and our first tapas of the day – an egg and cheese, fried in breadcrumbs which was probably called something like Cojonudo or something.  Whatever it was, it was the best thing we had ever eaten.
The game itself was a lively affair, full of passion but little in the way of creativity.  Our discussions focused on what level this would be the equivalent of in England – Sussex County League was the consensus of the 400 or so fans in the ground who voiced their opinion in a Mike Reid "Runaround" style exit turnstile gate version.  Full time brought a round of pleasant applause and our departure for more tapas before the main event.
Danny was my expert guide in the art of Tapasing.  He has had years of practice and was soon guiding me down the famous Calle Cava Baja which basically translates to Street of lots of small bars.  Three hours here of dipping in and out over a dozen establishments m where a beer cost a massive €1 was a perfect way to spend a Sunday afternoon.  For those tempted to following in our footsteps, here is my three-point guide to a Tapastastic time:-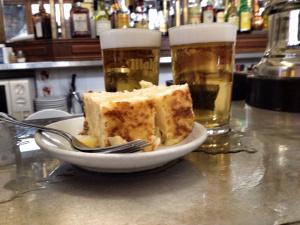 1. Never ask for a liter of beer when you go into a Tapas bar – ask for a "cañas" which is a small glass of beer.   You will be given a free portion of tapas which varies per bar.  Some may simply give a bowl of olives, others it will be a slice of Tortilla Espanyol whilst if you are lucky it may be a portion of gambas pil-pil.  Some of the bigger bars will also sell additional portions (raciones).
2. Only stay for one drink in each bar – the etiquette is to move from bar to bar so there is no need to stay in one place, even if they have a big TV showing Only Fools and Horses.  This is the way to enjoy the beauty of tapas.
3. The Museo del Jamon is not actually a museum of ham but rather a superb delicatessen that also serves €1 beers (or 1.5 litres for €1 if you buy a bit of meat) and is the Spanish equivalant of a J.D Weatherpoon.
Fed and watered, it was time to go and see the "World's most expensive player".
This wasn't the first time I had seen the home debut of the player with the biggest price tag in the world.  Back in August 1996 I saw the boy Shearer make his debut (and score with a rasping free-kick) against Wimbledon.  As Jessie J sang, forget about the price-tag Geordie boy.  Bale had already started his career with Madrid with a BANG, scoring in last week's win Villarreal and the excitement in the city was palpable, with daffodils on display everywhere and a number of the tapas bars serving laver bread.
Bale 11 was the shirt to be seen in, outselling Ronaldo 7 by three to one according to the man in the Real Madrid shop.  Everyone was going Gareth crazy.  A fair few groups of tourists were milling around, trying to work out how to buy tickets.  Officially the game was "sold out" but Socios, or season ticket holders, milled around the stadium touting their "spare" tickets for just a few hundred Euro.  The process of getting tickets for Real is quite straight forward – initially they only offer hospitality tickets on the website but a few days before the game you will be able to buy normal tickets (ranging from €30 to over €100).  Once you purchase you can then pick up your tickets from any La Caixa Bank ATM machines in the city.  Simple as that!
Real Madrid 4 Getafe 1 – Estadio Santiago Bernabau – Sunday 22nd September 2013
We took our place among the Sergio Ramos, Ronaldo and Pepe fans in the Fondu Norte and soon the sad faces around us told us everything we needed to know.  Gareth had Baled on us.  A thigh injury in the warm up had ruled him out of his home debut.  Well, we might as well back up and go home then!  We had invested in a big bag of those sunflower seeds you have to crunch in your teeth then spit out to toast his debut.  Could we ask for a refund?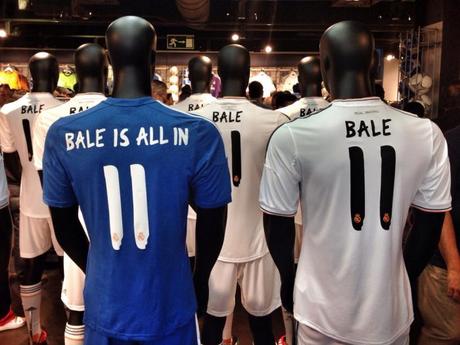 As it turned out the game was a bit of a corker.  The away team took the lead after just five minutes when Lafita scored but all of the 70,000 fans in the ground knew that an upset was never on the cards.  Pepe and Ronaldo soon put Madrid into the lead before half time.  Danny went off in search of a beer whilst I was asked to take a million pictures of various tourists posing with leeks in strange positions.
The second half saw the sun setting magnificently over the west stand whilst Real danced around their opponents, almost creating chances at will.  It could have been a cricket score – must be a tough job for Ancelotti getting this team to play at their best each week.  Further goals from Isco and a cheeky little back heel from Ronaldo in injury time completed the rout.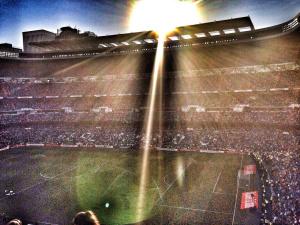 I could go on, waxing lyrical about the occasion, the stadium and the magic in the air but you can read that on a million other proper websites. My final comment is simply for all of you out there who say "I'd love to do that".  Well you can.  All of the details are in this blog post.
The night was young but alas Danny and I aren't.  His night out with the Rayo Ultras and my 3am start were both taking their toll on us, so after a swift couple at a bar with a stuffed boars head wearing a straw hat (the bar doesn't need a name) it was time to draw a close to our Madridillian adventure.  Hasta luego.