Anthony's Restaurant Rating:
91/100 X
Welcoming:10/10 Menu Choices: 8/10 Food Presentation: 9/10
Food Temperature: 9/10 Food Taste: 18/20 Service: 9/10
Ambiance/Music: 9/10 Architecture/Interior: 9/10 Air Quality: 10/10
Total: 91/100

More about:
Babylon
I'd been told there were two things I had to visit in London: the Shard and the roof gardens and here we were doing both during this discovery trip to the British capital. Renowned for serving fine food, Babylon is one of those places that deserve a Michelin star.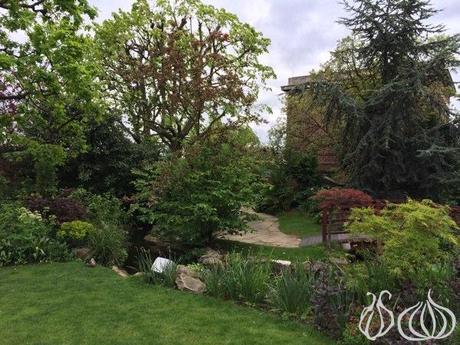 Located one hundred feet above Kensington High Street in central London, The Roof Gardens and Babylon Restaurant are truly spectacular. Originally above Derry and Tom's department store, which opened in 1933, The Roof Gardens are the work of landscape architect Ralph Hancock. There are three themed gardens, with over 70 full sized trees, a flowing stream stocked with fish and the famous resident flamingos Bill, Ben, Splosh and Pecks.
In 2001 Babylon Restaurant was built on the 7th floor of The Roof Gardens. Babylon is open Monday to Sunday for lunch and Monday to Saturday for dinner. Guests can see the English Woodland Garden from the terrace, and the flamingo pond from the private dining room. Babylon offers views west from Richmond Deer Park all the way across South London to City Point in the east.
Take the elevator up the 7th floor and you arrive at Babylon, a fine dining restaurant that smells of class and finesse. We were first invited out for a drink and a cigarette for some, before heading to have lunch. Lunch on Sundays is special with a special formula priced at £30 for a three-course meal or £27 for a two-course meal. Three fine dining plates for only £30, maybe the cheapest meal I've had during this trip when burgers are priced at £10.
The place is extraordinary:
The place is extraordinary:
Built in a long rectangular shape with an open view of the garden from one side and a series of benches on the other
The colors of choice are light green, gray and white
The white ceiling is covered with designs of golden circles
At the very end is a small chimney for warmth
Tables are separated by low glass walls
All tables are covered with white table cloth and set up in a perfect and luxurious way: two knives, two forks, a bread plate and a wine glass
Drawings and paintings decorate the walls and are inspired by green colors
The chairs are made of fine green fabrics and the benches are of gray leather
We ordered the three-course meal for £30, a choice of five appetizers, five main plates and five desserts.
Lunch started with a plate of freshly produced bread, small pieces served warm with butter and olive oil on the side. Crunchy and tasty, the bread contained rich pieces of fig and the baguette and its floury top was excellent as well as the tomato bread, which felt like eating a plate of tomatoes.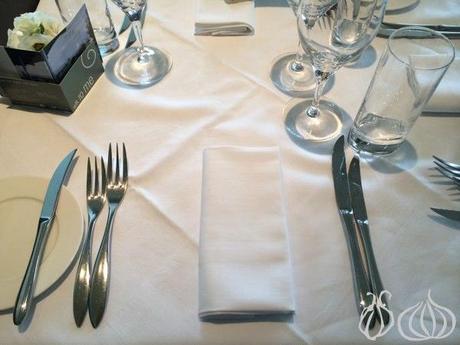 The menu:
Crispy fried Gladys Mays duck egg
Courgette and Chervil soup
Beetroot and 100% cocoa risotto
Smoked Scottish salmon
Chicken liver parfait
Feta cheese and pickled beetroot salad
Fish and chips
Wild garlic risotto
Roasted saddle of English lamb
Roasted Gloucester old spot pork belly
Rib of beef
Roast chicken
While waiting to be served, a magician was entertaining us all with his extraordinary tricks. He was standing so close to my eyes that I couldn't decipher any of his tricks. He even transformed a 1000 L.L. note into a €100 one.
Starters: 
Smoked Scottish salmon: Smoked salmon is served in a flower shape around a potato and a Dijon mustard salad. A great quality salmon that's adequately salted, adequately oily, has a good thickness and definitely a good taste. The salad, on the other hand, is what transforms this plate into a fine dining specialty. Like a hundred flavors combined into one bite, the softness of the potatoes is enriched by the Dijon mustard, while a subtle sweetness ends the experience with a certain finesse that anticipated the plates to come.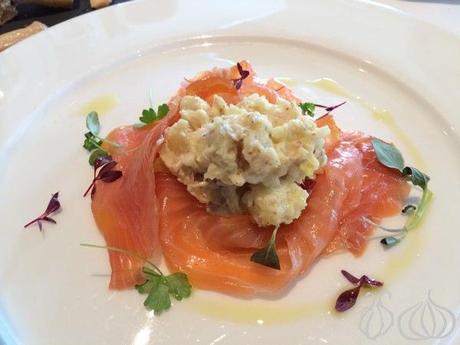 Chicken liver: When I read chicken liver, I said to myself, that this should be an innovation in a fine dining place. How would it be served, which sauce goes with it well? What was sent was not what I imagined. Pinned to a plate of black board were served two rectangular pieces of buttered and toasted bread, three slices of rhubarb and a mousse, a chicken liver mousse. The brioche was so good, it crumbled under your teeth and had a sweet aftertaste. The chicken liver purée was the premiere for me. Very, very interesting and tasty and some crunchy fried onion sprinkles on top added fine textures. On the side, a fruity and crunchy sweet finger, how nice and how "recherché". Three textures: the crumble, the crunchiness, the smoothness; a plate that deserves an award. So yummy. To appreciate a plate like that, you have to prepare yourself for a tasting session.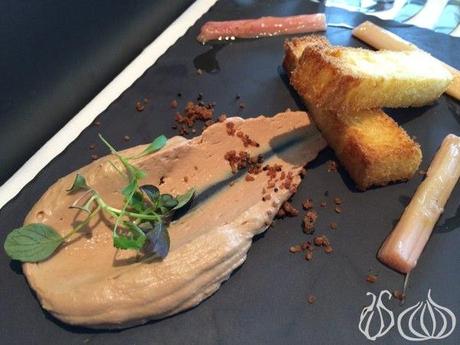 Up until now, I was more than satisfied so let's move to the main courses:
Fish & Chips: Beer battered fillet of whiting, served with tartar sauce, watercress, lemon and chunky chips. We started with the fish and chips. I was so curious to taste what a fine version of fish and chips could be and this one was excellent. On a rectangular wood board, we received a portion of fish, battered and deeply fried served next to mountain of French like a castle of cards as well as some tartar sauce. An extremely crunchy fish, golden on the outside and white on the inside, fried to perfection without having a single drop of oil residue. A juicy fish, a pleasant crunchiness and a salty cover that makes all the difference. Many flavors all working on activating different taste buds. Some salad on the side and you're done.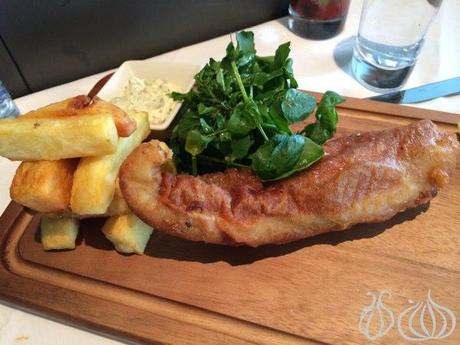 Roast Chicken: Roasted Cotswold white chicken, salt brined and free range, seasoned with paprika, mixed herbs, garlic, soy and olive oil. Half a chicken is served on a wooden board, lying majestically all by itself. A golden fresh chicken waited to be devoured. I wish I could just jump on it and eat it with my hands. This chicken looked so tasty, so mouthwatering. Served with gravy on the side, and couple of sides like a tender cooked cauliflower that melts like butter under your teeth, fried chunks of potatoes, courgette gratin and a juicy, creamy spinach mix. The chicken was soft, tender and juicy on the inside, golden cooked on the outside and covered with a mix of interesting spices that made all the difference.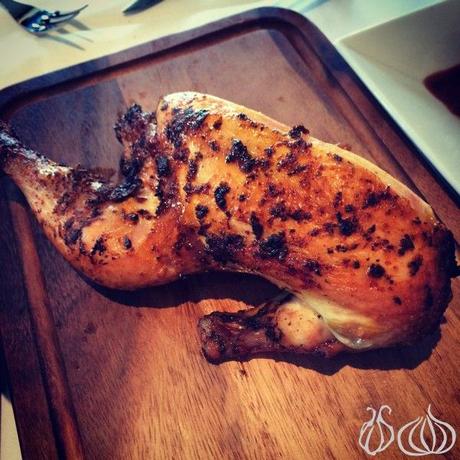 Rib of Beef: My least favorite of the dishes, the roast beef was nothing to write home about. Served with traditional Yorkshire pudding and horseradish cream on the side, those two slices of meat are not enough for a meal. A good quality, but nothing innovative about it.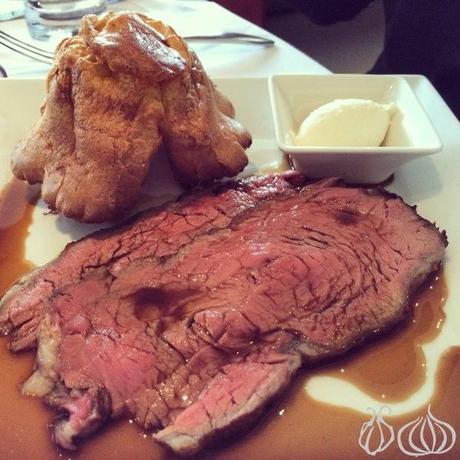 One coincidence after the other, I can't believe the chances that are walking on my side the last couple weeks. Babylon has a newly appointed pastry chef, Kate Malcolm, who is working on a new menu and we were some of the first to taste it. The chef has golden fingers if I may say so.
Dessert:
Baked Alaska: A simple dessert, yet very innovative. A dark chocolate ice cream covered with soft meringue and served next to mango cubes and a fruit coulis. The dark chocolate ice cream and strong sorbet is the main innovation. An extremely good dark chocolate ice cream that's icy, fresh, slightly watery and full of flavors without any hint of creaminess. Just imagine this sorbet covered with meringue. To make it a fine piece of passion, different add-ons were carefully deposited around for more textures and flavors.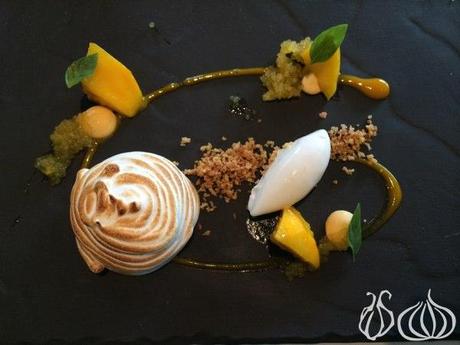 Lemon Posset: The posset is a medieval drink that has made a comeback as a modern dessert. Is it Britain's best creamy pudding. I was introduced to the posset dessert at La Petite Maison few weeks ago and now, a new one with a different production process. On a plate are served two biscuits, a scoop of lemon ice sorbet and the creamy cup of posset. Cold, creamy yet light at the same time decorated with soft meringue on top. The biscuits are majestic with their hint of saltiness that stays in your mouth for so long, the sorbet is like no other I've eaten to date, purity redefined and the posset simply addictive. Full of taste, creamy, juicy and light, fill a spoon and let it melt on your tongue. That's a dessert with a moaning effect. Bravo chef.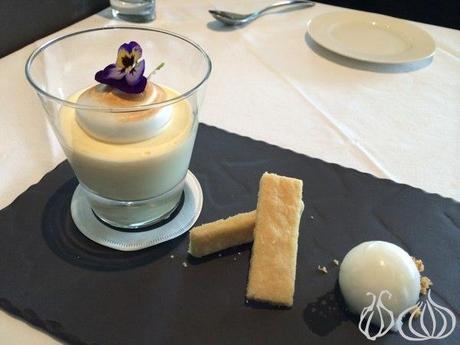 Worth mentioning: While discovering the gardens we met an older couple who were invited here by their son, who lived in the States, to celebrate their birthday. We mentioned that to the headwaiter, who sent them two glasses of champagne. Professionalism at its finest.
The things I loved:
Llanllyr Source sparkling water, I really enjoyed it
The ambiance of this restaurant will put a smile on your face
A perfect service, combining finesse, cleanliness, know how and respect
Creative plates, well decorated and finely produced
Chef Ian Howard is in charge of the kitchen, and is helped by chef Ariel Fernandez. I'm confident that both have a bright future ahead.
We had a great lunch that made me change my mind about the food served in the British capital. A French quality at a reasonable price served in one of London's most beautiful spaces. Babylon is your address of your speaking taste and finesse.
























Pages  [
1
]  [ 2 ]  [ 3 ]  [ 4 ]