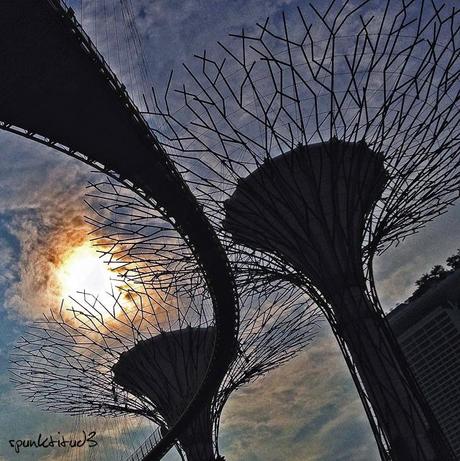 It's always nice to spend some time with nature when growing up in an urban jungle, and Gardens by the Bay is definitely a great place to be surrounded by flora and fauna. The SuperTrees intrigue me quite a bit because they look so sci-fi, and there's just so many different ways you can photograph them – how can you ever get bored?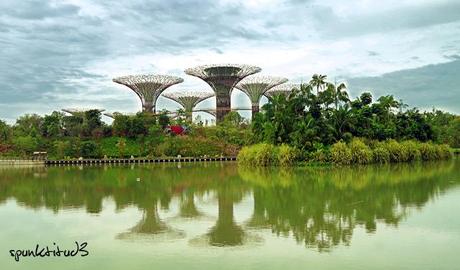 Postcard-worthy view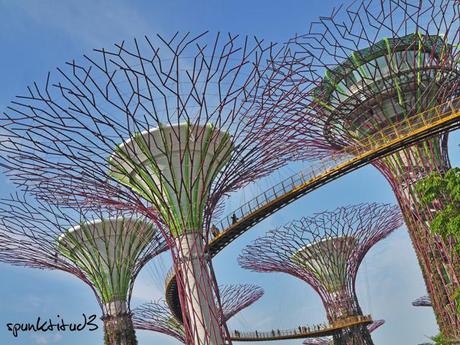 Ranging in height from 25 to 50 metres (16 storeys tall), the Gardens' 18 Supertrees are basically vertical gardens covered in bromeliads, ferns and tropical flowering climbers. Twelve of these can be found at the Supertree Grove, and six at the Golden and Silver Gardens.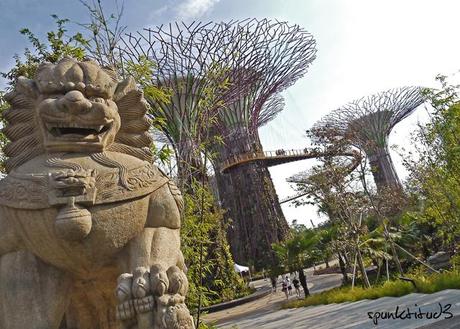 Laughing guardian at the entrance…ho ho ho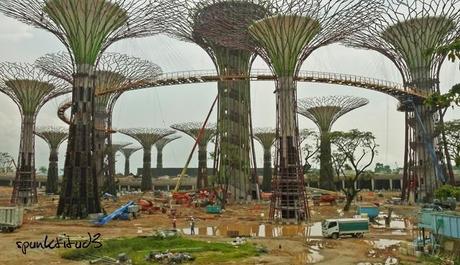 During construction in April 2012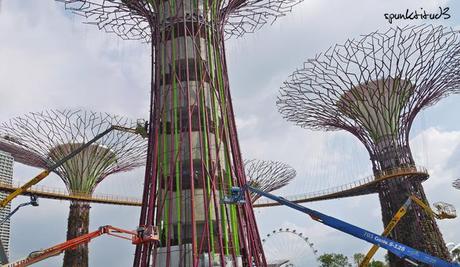 This is one of my favourite photos of the SuperTree Groove. The colourful cranes look like they are feeding the tree. And it is also a sight that is not likely to be repeated since construction is already completed.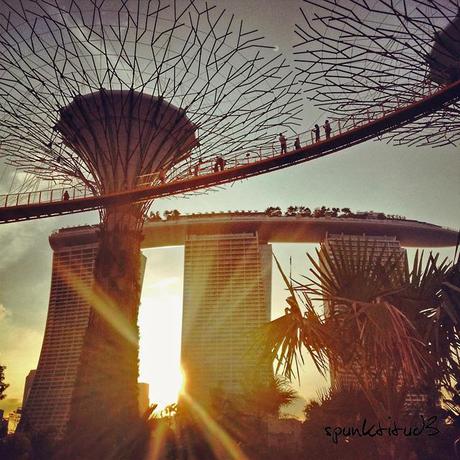 Sunset with rays of light peeking through Marina Bay Sands hotel's towers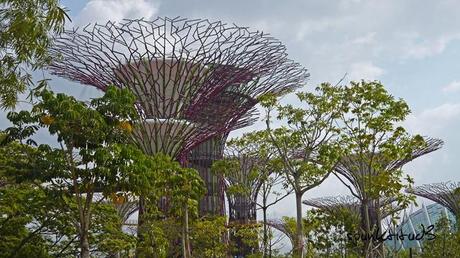 Real with man-made trees; blurring of lines between fiction and reality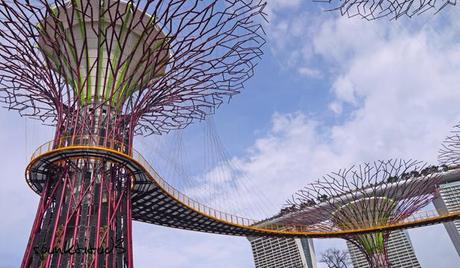 The Supertrees have different planting schemes in various colours ranging from warm tones like reds, browns, orange and yellows, to cooler hues like silver and pink. The plants are chosen based on the following considerations:
- Suitable for vertical planting
- Lightweight and hardy
- Soil-less
- Easy to maintain
- Suitable for Singapore's climate
- Not commonly found in Singapore
- Visually interesting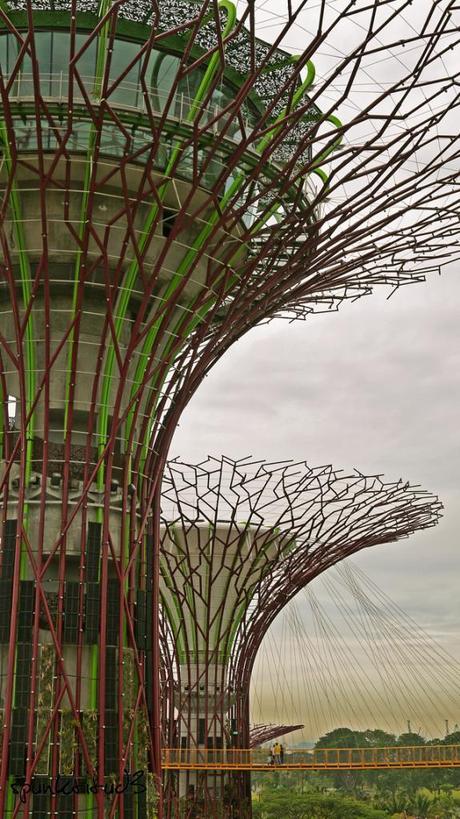 Take a stroll along the OCBC Skyway, a 128-metre long walkway that connects the two 25-metre Supertrees at the Supertree Grove, and take in a different view of the Gardens.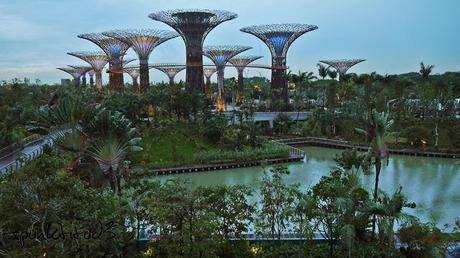 I like water a lot, so sitting by the wooden boardwalk at the Dragonfly Lake and watching the colours of the SuperTrees change feels relaxing. I would usually bring a bottle of wine to enjoy with a friend – and lots of insect repellent. This was taken during a sunrise shoot at a very sleepy 6am – a feat not to be repeated.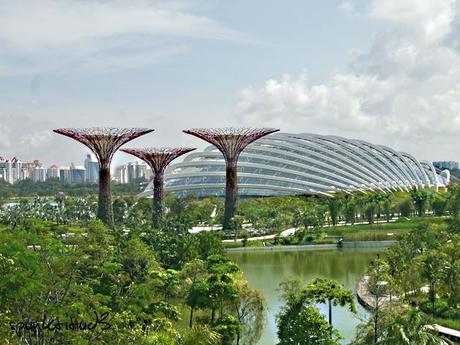 11 Supertrees are embedded with environmentally sustainable functions like photovoltaic cells to harvest solar energy. Some will be integrated with the cooled conservatories and serve as air exhaust receptacles.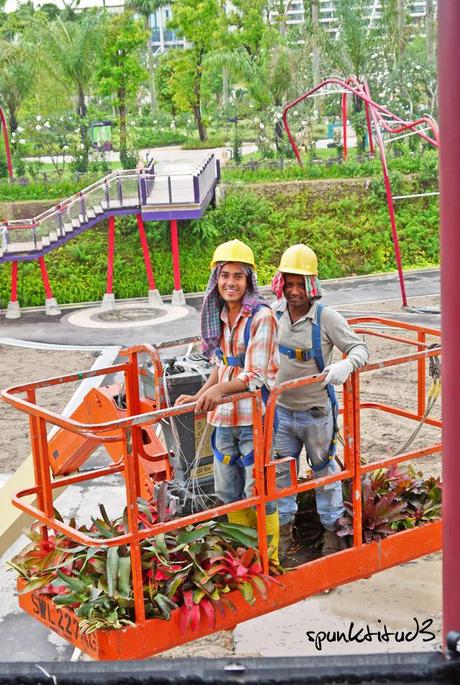 Workers who keep the SuperTrees looking pristineOver 162,900 plants comprising more than 200 species and varieties of bromeliads, orchids, ferns and tropical flowering climbers are planted on the Supertrees. Examples of some of the species that will be planted on the Supertrees include the Tillandsia stricta from Brazil, Tillandsia fasciculate from Panama, Cattleya maxima from Ecuador, and Pseudorhipsalis from Costa Rica.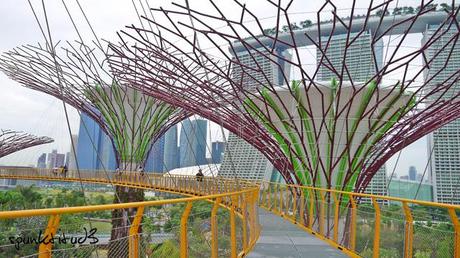 The feeling on the Skyway is certainly refreshing. You can get a pretty good bird's eye view of the entire Gardens from here.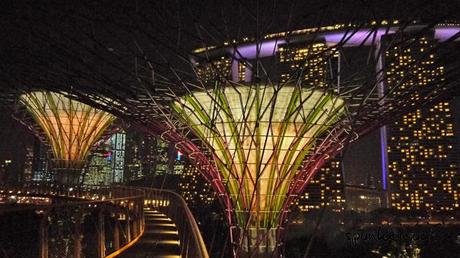 Same spot by night – how different it looks!
Watch as the Supertrees come alive with a dazzling myriad of light displays bursting across the sky. The OCBC Garden Rhapsody shows are on daily at 7.45pm and 8.45pm.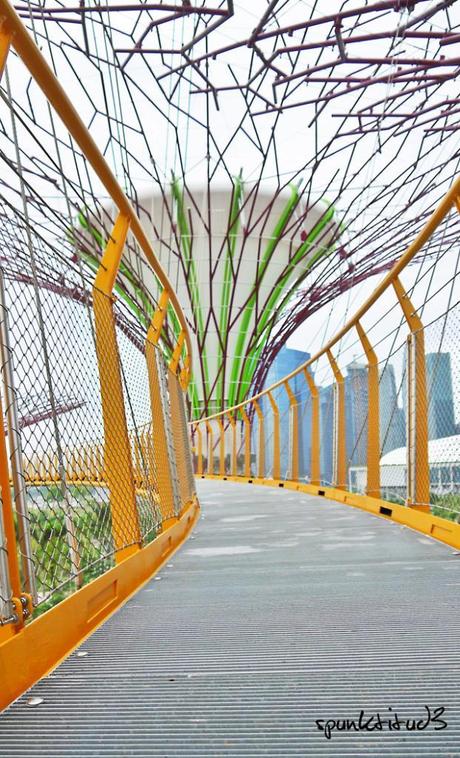 OCBC Skyway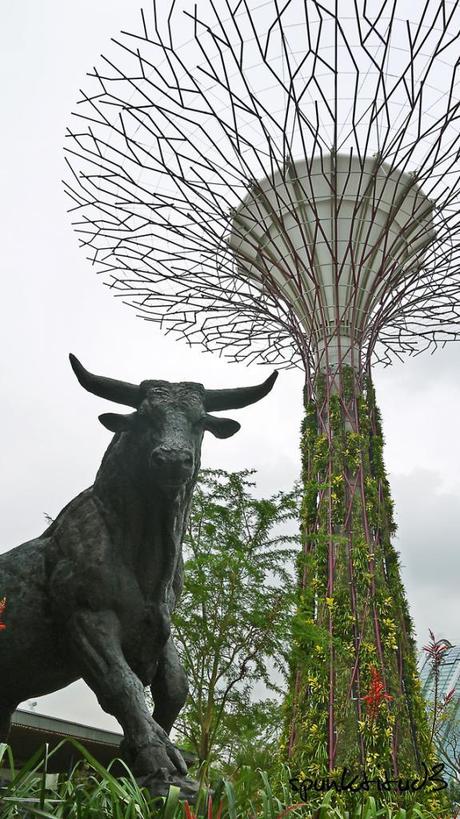 See you soon! Moo…(I'm actually a very virile bull, you'll know what I mean when you see the other half of me *wink*)

Read More about Gardens by the Bay
In Full Bloom: Cloud Forest @ Gardens by the Bay
Flower Dome @ Gardens by the Bay

About Gardens by the Bay
At 54 hectares, Bay South Garden is the largest of the three gardens which form Gardens by the Bay. When completed, the Gardens by the Bay will occupy a total of 101 hectares of land by the water around Marina Bay and the 32 hectare Bay East Garden will be linked to the Bay South Garden by Bay Central which will feature a 3 km promenade that offers stunning views of the city. It is masterplanned by UK-based landscape architecture firm Grant Associates. It is viewed as a bold step in enhancing the liveability/quality of life in the city as well as Singapore's international appeal. Bay South Gardens consists of several signature parts such as the Flower Dome and Cloud Forest cooled conservatories, Supertrees vertical gardens, OCBC Skywalk, Heritage Gardens; The World of Plants and the Dragonfly and Kingfisher Lakes.
Address
18 Marina Gardens Drive Singapore 018953
Website: http://www.gardensbythebay.com.sg

View Larger Map
Getting There – Train/Car
Garden Admission
Access to the outdoor gardens in Bay South is free. The admission charges to the Cooled Conservatories and the OCBC Skyway are found here.
• Outdoor Gardens
Rates: Free Admission
Hours: Daily; 05:00 AM – 02:00 AM
• Conservatories (Flower Dome & Cloud Forest)
Rates: From $8 – $28
Hours: Daily; 09:00 AM – 09:00 PM
Last ticket sale at 08:00 PM; Last admission at 08:30 PM
• OCBC Skyway
Rates: From $3 – $5
Hours: Monday – Friday; 09:00 AM – 09:00 PM
Last ticket sale at 08:00 PM; Last admission at 08:30 PM
Weekends & PH
09:00 AM – 09:00 PM
Last ticket sale at 07:00 PM; Last admission at 07:30 PM