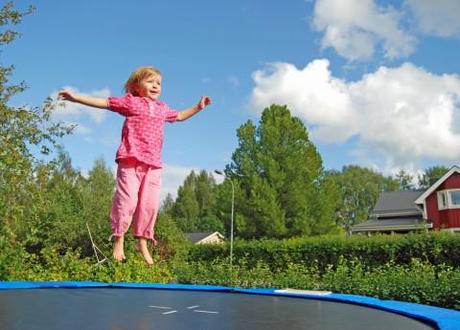 A child having fun on a trampoline: Somebody call the AAP!
The background
Ah, trampolines. They look so innocent, don't they? Squatting benevolently in the garden, promising hours of bouncy fun. But wait! These seemingly innocent tools of family fun are in fact deathtraps and should be banned. At least, that's the message from the American Association of Paediatrics (AAP), which wants their use "actively discouraged" to prevent injury.
According to The Telegraph, the AAP warned of "potentially catastrophic" injuries from trampolines: "Failed attempts at somersaults and flips frequently cause cervical spine injuries, resulting in permanent and devastating consequences."
So is it time to take a chainsaw to your once-beloved trampoline?
Killjoy doctors take on bouncing
"Fact: If trampolines could talk, they'd all say, 'We're hungry! Feed us your children!'" wrote Doug Barry at Jezebel, possibly not taking the AAP's exhortations entirely seriously. "Fact: No physician in the history of the universe has ever jumped on a trampoline."
Trampolines are good exercise
Professor Mark Batt, president of the Society for Sports and Exercise Medicine, told The Telegraph that trampolines do have health benefits for children, so long as there is adult supervision: "As a doctor who is very concerned about physical activity levels in young people, I'd be very concerned about putting off a group of children from trampolining, who otherwise wouldn't be very active. "
Trampageddon
Fancy living life on the edge? Then take a look at the Trampoline modulus – a system of interconnected trampolines that would make the AAP weep. "Using the Trampoline modulus, municipalities and schools could build full trampoline parks and play areas, creating a new type of exercise and amusement for children. And those with the room and money could build such super-trampolines at home," reported Gizmag.