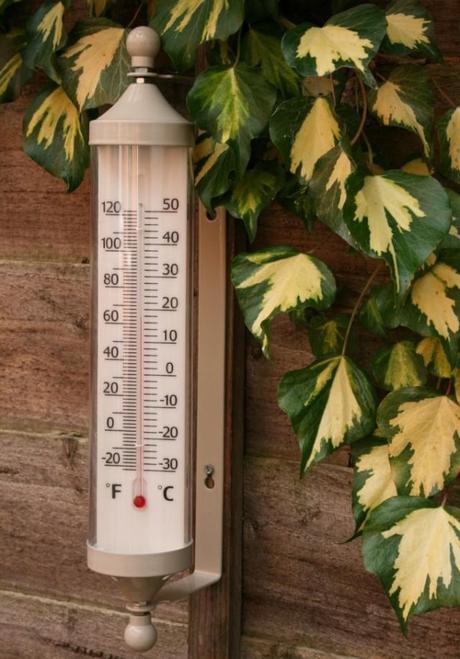 I have an unhealthy obsession with the Met Office website!  I check it at least once a day, probably more (I'm not going to admit how many times!).  As a gardener I think you do become somewhat obsessed with the weather as so much depends on it.  So it's a little surprising I have never had a thermometer in any of my gardens…. until now.
I had been asked to review a product by Garden Trading, just the nudge I needed to finally see a thermometer in my garden and a beautiful one at that.  It's on a sturdy metal bracket and the thermometer itself is housed in a perspex tube (this is good as the readings are more accurate because they're not affected by wind). I did a little research as to where to best site it……
Position in a shaded area, such as a north facing wall where it is least likely to receive direct sunlight.
Site about 4-6ft above ground level.
Ensure there is good airflow and ventilation around the thermometer to allow it to function properly. This one is really good for that as it's on it's own bracket keeping it a couple of inches away from the surface it is fixed to.
There are other things you can consider when placing a thermometer if you are after very accurate readings but these are the main considerations.  So with that in mind mine is taking pride of place on a north facing fence, opposite one of my kitchen windows.  Putting it up was only a 5 minute job which was a bit of luck because it was just about to pour it down. I'll keep a check on the ivy growing next to it but I think it frames it nicely.
Perhaps this will be the start of another obsession…. I can see myself, morning coffee in hand, popping out into the garden to see what the temperature is.  I will be interested to see what temperatures it gets down to during the winter because as great as the Met Office is it can't tell me what is happening in my back garden!