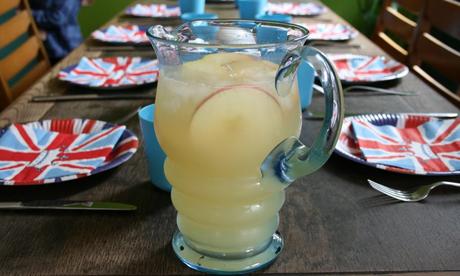 I had my Jubilee party on Monday and this is the punch I served.  We were lucky enough to have a dry day and with 8 children needing to run around I was very grateful they could go out into the garden!
Garden Party Punch
3 parts gin
3 parts Sparkling English Wine
2 parts good quality pressed pear or apple juice
1 part fresh lemon juice
1 part Elderflower Cordial
1⁄2 part Sugar Syrup Glass
Pour all the ingredients into a punch bowl or jug. Stir and add plenty of ice.  Decorate with thin slices of apples or pears.
This is a lovely fresh punch that is very refreshing on a hot summers day.