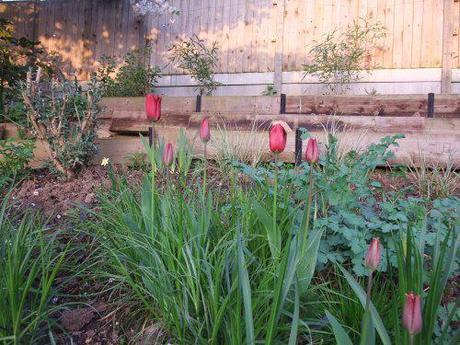 Tulips adding extra interest but need adding to next year
I went to a garden school this week  to a talk by Fergus Garrett of Great Dixter.  I have heard Fergus talk before and found him to be very inspirational.  This talk was on succession planting and I came away with my head buzzing with ideas and a strong desire to visit Great Dixter soon and go on one of their study days.
I learnt lots of clever techniques to do with succession planting but one of the most important things I learnt or to be honest realised is the need to keep a gardening notebook.
I have gardening notebooks a plenty.  I take them with me when I visit gardens and write down plants I like or combinations that look good.  I take them to talks to record those snippets of wisdom.  I even use them when I am reading gardening magazines, books or blogs to record things that might be useful BUT I don't use them to record things I need to do in my garden!  This was quite a startling realisation – how stupid am I.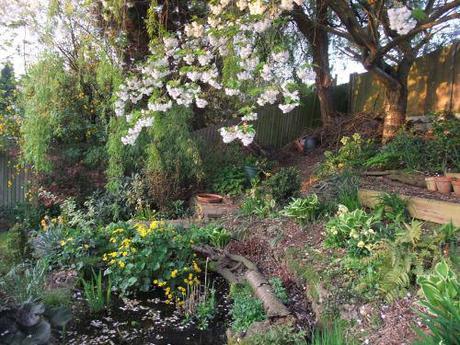 Back slope in shade needs more layers of interest
More embarrassing is how this revelation came about.  I had listened to Fergus talking about building up layers in the garden to give succession of interest.  He talked about adding interest in spring with snowdrops, primroses, forget-me-nots and tulips.  As he said at Snowdrop or Primula time you look to see where there are gaps and lift and divide your existing Snowdrops and Primulas and pop them in.  He also talked about using tulips in the same way which made great sense.  However, I couldn't see that you could do this in the same way as you wouldn't want to plant the tulips until the following autumn so how do you remember where to put them!  Anyway, after lunch I was walking round the nursery and bumped into Fergus doing the same.  So as I am used to making a fool of myself I bravely stepped up and said "How do you remember where to put the tulips?"  Well, after reading as much as I have written by  and about Christopher Lloyd I should have known better.  The answer: "You take your notebook (dur!) and you write "From the Astrantia to the Geranium I need xxxx number of whatever tulip", you put a big asterisk by it and then you look at this when you are ordering bulbs!   So there is the answer – Use your notebook Helen in your garden!
Suddenly, this makes complete sense.  I have been relying on this blog and looking back through pictures to try to decide what to do but if I supplement this with a few simple notes in a notebook as and when I realise things need doing I will be a better gardener.  It's funny how the most obvious things aren't that obvious – well not to me anyway!