We were recently sent a fantastic
Rocket Play Tent
from the wonderful people at Garden Games to review. I had pinned this play tent on one of my
Pinterest
boards months ago so I was delighted to be given the opportunity to review it as I just knew it would be perfect for space obsessed Ben.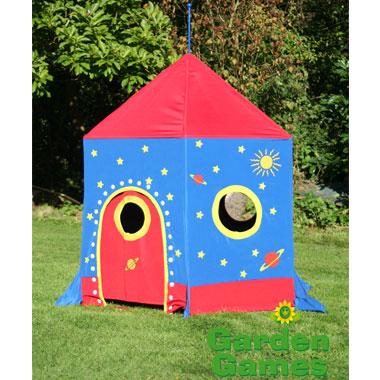 The play tent comes packed in a box and requires assembly, you will be relieved to hear that it comes with a straightforward set of instructions to make this job easier. The product states an assembly time of fifteen minutes and as long as you read the instructions first and don't have a toddler running off with the connector pieces every few minutes this is achievable. To put your rocket together you have to join wooden poles with plastic connectors and the canvas cover.
There are some really nice features to this tent which make it appear ready to launch into space such as the probe at the top of it's roof for testing the atmosphere and for radio signals in and out of the rocket, the round portholes for windows and the door which can be shut to make it a secret den for your little space explorers. The canvas is bright and colourful and is beautifully decorated with the sun, stars and planets, Ben loves that it has "Saturn with it's rings" on it's walls as it's his "favourite planet ever!". It is also worth mentioning that as the cover is made from a durable waterproof polyester fabric there is no need to panic if you have set it up outside and it starts to rain.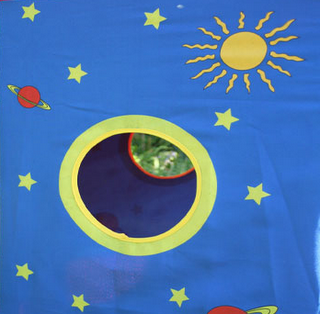 I love the detail on the canvas!
I love this rocket play tent as it is perfect for inspiring kids imaginations, especially space loving ones like my son. Ben disappears in there with his Mickey Mouse rocket ship, Buzz Lightyear and dinosaurs and it is hilarious to hear him waffling away inside on his adventures, poking his head out the portholes or peeking through the door every so often. While the play tent is great for using indoors, I am actually really looking forward to setting it up in the garden next spring / summer when the weather gets warm and letting him enjoy it outside in the open. The only thing I would change about this product is to add some sort of cover or bag to make it easier to store if you disassemble it, I reuse the box it came in but it requires a bit of clever thinking to get it all put back in and taped up again.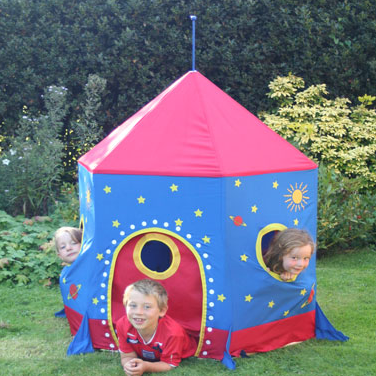 Fun in Space!
The dimensions of the Rocket Play Tent are 1.1m x 1.4m tall and it is suitable for children aged one and a half years and over and is priced at £74. It is one of a range of fantastic
play tents
from Garden Games that are definitely worth checking out, not to mention the other great stuff that they have for keeping the kids (and adults) entertained in their own gardens such as Croquet Sets, Trampolines and Giant Games.
* Disclaimer: I received the Rocket Play Tent free of charge from Garden Games in exchange for a review. All opinions and views expressed here are my own. This is a fantastic play tent I can highly recommend.
** Please note images are used with permission from Garden Games. I shall be replacing these next month with my own
.