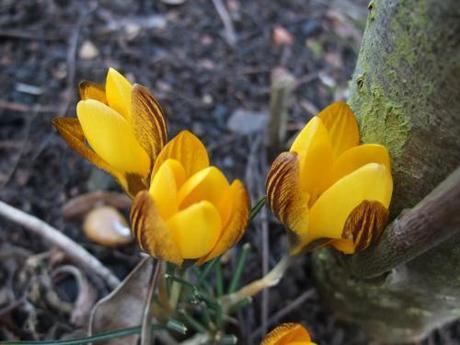 As ever at this time of year I am surprised at how much is flowering in the garden despite it looking bare.  But its a case of bending down and peering rather than being overwhelmed by masses of flowers.
The little group of crocus, I would love  to know which ones they are, had only just  opened after a couple of weeks of extreme cold and then this morning I noticed they were already over.  I am so glad I took the photograph on Sunday.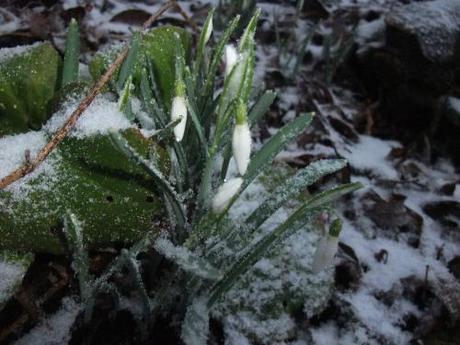 The snowdrops are just beginning to open as you can see from this frosty example.  It will be nice to see them open properly and hopefully with a few more days of sunshine they will be at their best.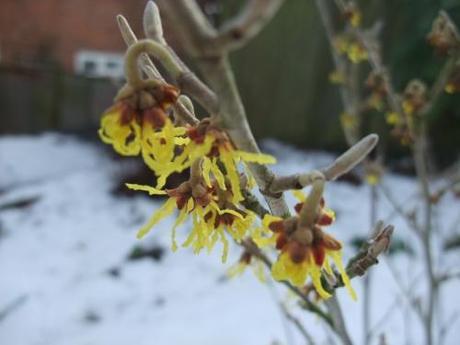 My Hamamelis Pallida is flowering really well considering it was only planted just under a year ago and I spent the year worrying that it would take as there was so little rain but it seems to be fine and no doubt next year it will be even better.  This was my birthday present to myself last year, this year I think it will be a Sorbus tree.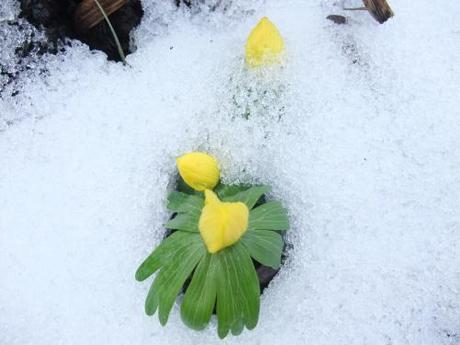 You can see how frozen my Eranthis got.  They are now defrosted but sadly my comings and goings during the week are when the light is too poor for photographs.  On a side note I am thrilled to have germinated the seed of these, they only took a year to germinate – who said I wasnt patient.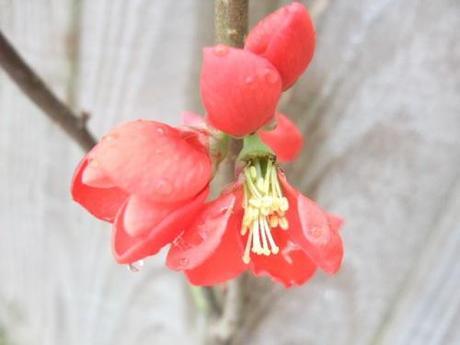 Finally on the back fence there is a splash of color from the Chaenomeles.  It was moved last year and I am hoping that in this new, and better, location it will thrive and flower more profusely.
There are some primulas in flower, a daffodil about the open and hellebores with  tight buds so hopefully next month there will be more to show.
For more GBBD  posts visit Carol at May Dream Gardens
Advertisement