On the occasion of its 35th theater season, Gantimpala Theater presents the longest-running Philippine theater classic "Kanser".
Based on Rizal's novel "Noli Me Tangere" and adapted for the stage by award-winning playwright Jomar Fleras, "Kanser" was first staged in 1980 at the CCP. The current production has Adriana Agcaoili and Jheyar Caguimbal as directors.
Why an adaptation of "Noli"? Because, says Agcaoili, "As live theater, it makes for an entertaining two hours of watching. And as a historical record, it is a powerful and very real testament to the sacrifice that Rizal--and all the revolutionary Eliases, the victimized Sisas and Crispins and the broken idealists like Ibarra--made for our motherland. The lost dreams and the blood they have shed have bought us the freedom we enjoy but sometimes take for granted."
The late National Artist for Dance Leonor Orosa Goquinco once wrote of Gantimpala's "Kanser": "Whoever thinks that Jose Rizal's novel 'Noli Me Tangere' has been drained dry as a source of inspiration has some rethinking to do. For "Kanser" is theater of the highest order--meaningful, satisfying, high-voltage drama."
And theater reviewer Amadis Guerrero also wrote: "Gantimpala's best seller [is] enhanced by shadow-play techniques, arresting visuals and affecting performances."
Joe Gruta, one of the Philippine's most revered character actors, is back on the Gantimpala stage to give life to the character he started, Capitan Tiago. Kapuso actor Jay Gonzaga and Kapamilya actress Cris Pastor star as Crisostomo Ibarra and Maria Clara, respectively.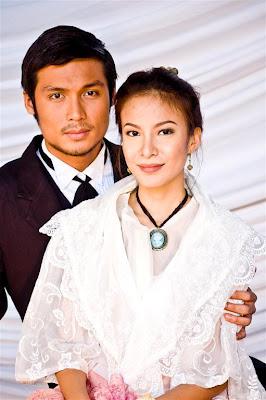 "Ibarra is a very difficult role since he is the center of the novel's universe," says Gonzaga. "He starts as an idealistic ilustrado who just came from Europe, whose main reason for coming home is to rekindle his affair with Maria Clara. But as the play progresses, his discoveries and battles become all gut-wrenching and heartbreaking, consuming him in the end."
Pastor says of her Maria Clara: "I have a better appreciation of her person because of this production. To many, she is emotionally weak. But I've realized she is a brave and strong woman. She sacrificed so much to protect the purity of her love for Crisostomo."
Philstage Best Actress Marj Lorico, meanwhile, is playing Sisa. "I am also a mother, so I know how she feels... Giving life to such a larger-than-life character is my way of telling today's generation to read our literary classics. What I like about this play is that each of the major characters are highlighted, thus audiences get to know them better."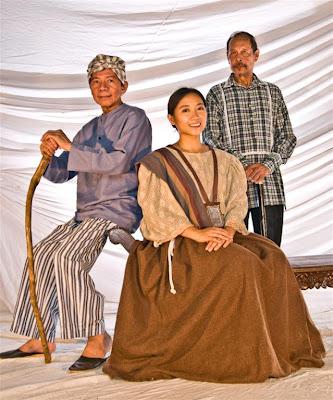 Homegrown Gantimpala actor Troy de Guzman is Elias, while providing support are TV and film actors Ku Aquino as Padre Damaso, Mosang as Doña Victorina and Dante Balois as Pilosopong Tasyo. Model/actor Patrick Patawaran is Padre Salvi, the young priest who secretly covets Maria Clara.
Assisting directors Agcaoli and Caguimbal in the creative team are Benjie Cayetano (lighting designer), Norman Peñaflorida (set designer), Roobak Valle (choreographer), Charyl De Guzman (production manager) and Wilmark Oliver Tabio (stage manager).
The National Parks Development Committee and Everbilena fully support Gantimpala Theater's production of "Kanser".
Performances are on August 26, (7 p.m.), Concert at the Park Open Air Auditorium, Luneta, Manila; August 31, September 1-2 (9 a.m./12nn/3 p.m.), AFP Theater, Camp Aguinaldo, Quezon City; September 7-9 (9 a.m./12nn/3 p.m.), Star Theater, Star City Compound, Pasay City; September 14-16 (11 a.m./2 p.m.), Cinema 3, SM Southmall, Las Piñas City.
For tickets, call 9985622. Like on Facebook www.facebook/gantimpala.