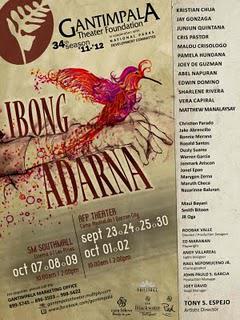 After the successful back-to-back run of the historical dramas "Kanser (Noli Me Tangere) and "El Filibusterismo," Gantimpala Theater presents "Ibong Adarna," a play based on the "Corrido at Buhay na Pinagdaanan nang Tatlong Principeng Magkakapatid na Anak ng Haring Fernando at nang Reina Valeriana sa Kahariang Berbania," written by Ed Maranan, under the direction of Roobak Valle.
Three brothers from the Kingdom of Berbania, Don Pedro, Don Diego and Don Juan, set out to capture the elusive mythical bird whose enchanted songs are said to be the cure to their father's lingering illness, Haring Fernando.
"Bringing life to Ibong Adarna on stage is always exciting for us. This Filipino folklore is filled with adventure and magic, dance, and lessons about finding oneself and the hero within, " says artistic director Tony Espejo.
"Playing Don Juan is Kristian Chua, who is a homegrown Gantimpala actor. He was a summer workshopper, then became part of the Actors' Company, trained and gained expertise in production work and acting. He was initially molded in our Four Classics as koro/taong bayan. He is proof that we are doing our share in honing and training new theater artists."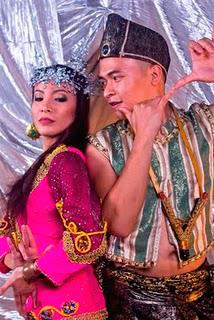 Chua's first major Gantimpala role was Greg Marforri in "Taluktok" under Espejo's direction, presented during the company's Pearl Theater Festival. He played Victor in "Silang Magigiting" and Isagani in "El Filibusterismo" a season after.
"I've been doing 'Ibong Adarna' since 2006 as a kawal," says the latest Don Juan. "Being part of this production, regardless of the role that you're playing, is something you can really be proud of because of its magic and spectacle. Doing the lead role is challenging, nerve-wracking and exciting. I hope the audiences will like my performance; can't wait when the curtain finally rises."
The other major players are: Jay Gonzaga (Don Pedro), Junjun Quintana (Don Diego), Edwin Domino (Haring Fernando), Malou Crisologo and Pamela Hundana (alternately playing Reyna Valeriana), Abel Napuran (Haring Salermo), Joey de Guzman (Ermitanyo), Sharlene Rivera (Prinsesa Leonora), Vera Capiral (Prinsesa Juana), Mathew Manalaysay (Ibong Adarna) and Cris Pastor, as Maria Blanca, the princess who holds the key to Don Juan's heart and the mystery behind the fabled bird.
Providing live musical accompaniment are Maui Bayani, Smith Bitoon and JR Oga. Dances were originally researched and choreographed by the late National Artist for Dance Ramon Obusan.
The artistic and production team are Andy Villareal (light designer), Raul Nepomuceno Jr. (choreographer), Joey David (stage manager) and John Paulo Garcia (production manager).
Performances are on September 18, (7 p.m.), at the Open Air Auditorium in Luneta, Manila; September 23-24, September 30-October 1 (10 a.m./2 p.m.), at the AFP Theater, in Quezon City; and October 7-8 (11 a.m./2 p.m.), at Cinema 3, SM Southmall, in Las Piñas City.
For tickets and other queries, please call the Gantimpala Marketing Office 8995911 or 9985622. Visit: www.gantimpalatheater.multiply.com or www.faceboook.com/gantimpala.