Tony S. Espejo, artistic director of Gantimpala Theater, announces the opening of its 34th Summer Drama Workshop, which begins April 25, 2011.
Within 20 sessions plus a culminating recital on May 28, 2011, workshoppers will learn basic acting and acting for musical theater.
In basic acting, participants will learn practical application of stage acting with lectures and actual exercises on concentration, spontaneity, improvisation, confidence, body and voice preparation, eight basic efforts, characterization and script analysis.
The acting for musical theater teaches creative drama, music, voice and dance exercises that will help participants perform in a musical production.
Gantimpala Theater was one of the original artistic companies of the Cultural Center of the Philippines. During its more than two-decade residency at the CCP, it produced "untried and untested" plays that were winners of the CCP Playwriting Contest. These plays delighted the public, were the talk of town, earned considerably at the box-office, received critical acclaim and became the benchmark of excellent Filipino theater. Producing these plays was considered valuable to the development and enrichment of Philippine dramaturgy.
After the EDSA Revolution, Gantimpala became a self-sustaining theater company with a whole year season of the Four Classics--"Kanser," "El Filibusterismo," "Ibong Adarna" and "Florante at Laura"--along with the National Artist Production Series, original Filipino children's musicals and contemporary English plays.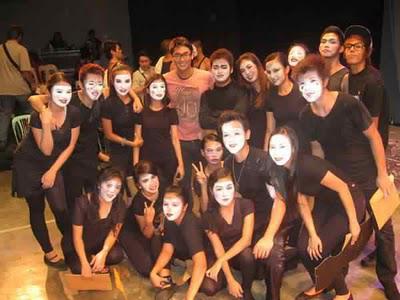 Espejo says, "What I found most rewarding about our annual summer workshop is witnessing the process of transformation happening to the workshoppers. From shy and inhibited young boys and girls to one who can deliver a punch line, sing a tune, work out dance steps. They are initially strangers who become friends in such a short time, and their creative juices seem to be coming from a bottomless well. I sincerely hope we have instilled a love and respect for theater with them."
Main facilitator is award-winning actor and singer Roeder Camañag, with guest lecturers. Workshop classes are every Monday, Wednesday and Friday, 1-5 p.m. It is open for teens and young adults.
Tuition fee is P5,000. Interested workshoppers must bring a close-up photo (2x2). Enrollment begins March 14 (Monday).
Gantimpala Theater is located at the 2nd Floor, Open Air Auditorium Building, located inside the Rizal Park. For more information, call 5280603, 5365860 or text/call 0921-5286308. Visit www.gantimpalatheater.multiply.com or www.facebook.com/gantimpala.
[Photo: Roeder Camañag (center) with Gantimpala Theater's Summer Workshoppers Batch 2010]