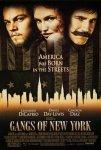 Amsterdam Vallon returns of the Five Points area of New York City seeking revenge on Bill the Butcher who killed his father the Priest many years earlier.
⭐️⭐️
It had been many years since I had last seen Gangs of New York and to be brutally honest I couldn't really remember much about it other than Daniel Day-Lewis being outstanding as the Butcher. Now it seems that was with very good reason as Day-Lewis' performance is the only decent thing within the whole film. Everything else about it is just messy and all over the place. The story is not engaging enough and the jumpy camera at times is not really great to watch either.
From the opening scene and how bad the fight scenes looked I realised this was not going to be an easy rewatch. Especially with the running time of 2 hours and 47 minutes, it certainly feels longer than that as well. As it stumbles throughout the story which you lose interest in quite quickly. The most memorable scene is the knife throwing.
Considering over the past few months I have either rewatched or watched a lot of Martin Scorsese's films this does not actually feel like something he directed. I found that pretty odd but it is rather different to his usual style and just doesn't work in any way for me. Especially when I read that he spent twenty years developing this project.
The cast looks pretty impressive but when you delve deeper into it majority of the actors are missed cast. I mean Cameron Diaz' attempt at an Irish accent is absolutely awful. This is something that you just cannot get away from. Even Leonardo DiCaprio is pretty poor as Amsterdam and it is certainly not very often that I have said that about him.
Nominated for ten Oscars but failed to win any, which must make it one of the biggest losers but other than for Day-Lewis I find that number of nominations quite strange really. I was rather surprised though as I thought I would like the film better than all those years ago and it was quite the opposite reaction, sometimes that is why you should rewatch different films.