It is that time of the year again, when we celebrate one of the most popular Gods of the Hindu calendar, Lord Ganesha. Also called the Lord of beginnings, His birthday is celebrated each year on Ganesh Chaturthi. A festival that is all about rituals, traditions and prasadam, Ganesha habba falls on the fourth day of the Hindu month of Bhadrapada. A much awaited celebrated, this important festival is observed with great reverence and pomp in the states of Karnataka, Andhra Pradesh, Telangana and Maharashtra among others. And when we speak of celebration, no celebration is complete without the mention of food. Food aka prasadam is an intrinsic part of Vinayaka Chaturthi, as it also called, and the offering to Lord Ganesha on this day is indeed special.
Channa dal modak_Pic credit Rajdhani
It is a well-known fact that Lord Ganesha is a true foodie. He is also known to be the God that enjoys good food and a variety of savoury snacks are also offered to the much-loved God.  From modaks to laddoos and chaklis to kadubu, the bhog offered to Lord Ganapati, as he is also called, is indeed as versatile as scrumptious.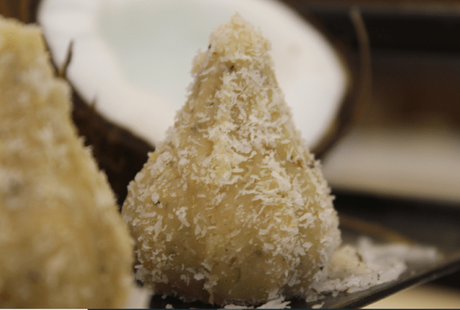 Coconut modak_Pic credit Rajdhani
" data-orig-size="1238,837" sizes="(max-width: 663px) 100vw, 663px" aperture="aperture" />Coconut modak_Pic credit Rajdhani
Modakapriya's Immense Love for Food
Arguably the most popular among the foods offered as prasad to Lord Ganesha is the modak.  Modaks are either steamed or fried dumplings stuffed with a traditional filling of jaggery and coconut.  It is considered highly auspicious to offer a batch of 21 modaks which is eventually distributed to everyone as prasad.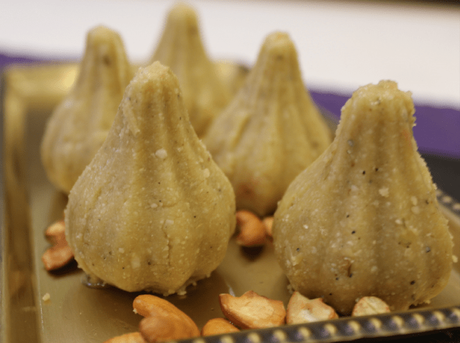 Kaju modak_Pic credit Rajdhani
" data-orig-size="1089,813" sizes="(max-width: 663px) 100vw, 663px" aperture="aperture" />Kaju modak_Pic credit Rajdhani
The outer covering is usually made from rice flour that is mixed with some refined flour (maida).  It is cooked with an equal amount of water and then rolled into a smooth dough.  The dough is then divided into small balls which are flattened and stuffed with the sweet filling.
While the authentic version is the steamed or Ukadiche modaks as they are called in Maharashtra, homemakers and store owners today are experimenting with innovative fillings like dry fruits and even chocolate. 
Dry Fruit modak_Pic credit Rajdhani
Chocolate modak_Pic credit Rajdhani
Another version of the modak that is popular in Karnataka is similar to gujiya in that it is deep fried and shaped like a half-moon.  In Tamil Nadu, Kozhukattai which is similar to the modak is considered highly auspicious.  It is made from a plethora of fillings like moong dal, channa dal and even sesame seeds. 
Kesar Mawa modak_Pic credit Rajdhani
Apart from modaks kheer aka payasam, motichoor laddoos and puranpoli are popular offerings.  The latter is similar to flat bread but it is made from refined flour which is stuffed with a filling of channa dal and jaggery.  Poha or avalakki as it is called in Kannada is also believed to be a favorite with Lord Ganesha; hence avalakki payasam is often offered to the Lord apart from other kinds of laddoos including those made with sesame seeds and wheat flour.    
Hope you have a blessed Ganesh Chaturthi and a great feast too!
A part of this article was originally published in CEIA magazine.