Michael Hausam has a devastating comparison of Reaganomics versus Obamanomics over at IJReview:
When Ronald Reagan took over from Jimmy Carter in '81, things were actually worse economically compared to when Obama took over from George W. Bush in '08.

Consider these three important comparisons of economic indicators, then and now:

- Unemployment was at 10.8% versus 7.7%

- Inflation (Consumer Price Index) was at 13.5% versus 2.7%

- Interest rates (prime rate) was at 21.5% versus 3.25%

In other words, Reagan inherited a bigger mess.
Yet... as the chart below shows, Reaganomics, when measured by the cumulative job growth net of population, beats Obamanomics hands down: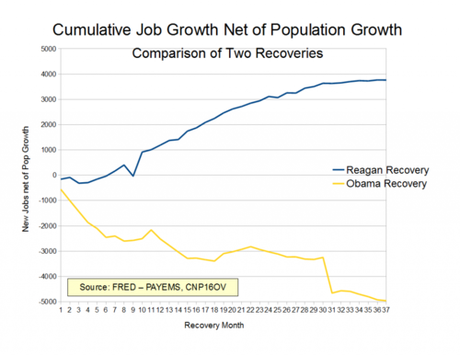 Go read the rest and check out how this was accomplished.  It's eye-opening.
If only this sort of thing would get wider play.
If only.