Game night with ISL
You all may know that the Indian Super League is going on in India, which means finally football (some may know it as soccer) is being accepted as a major sport in this cricket driven country. I may not be a soccer fanatic myself but who doesn't enjoy watching a live game, specially if its in your city!
A huge group of friends, we decided to make way to JLN stadium and watch Delhi Dynamos play with Pune City in all enthusiasm, wearing blacks and oranges (the Delhi team's color) and showering every bit of support possible.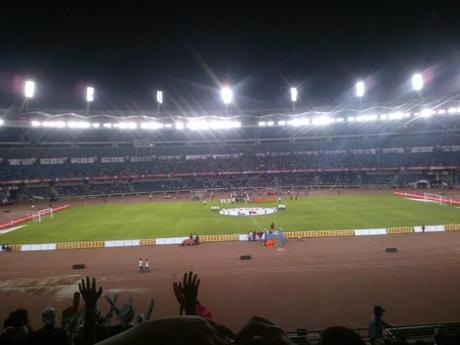 Now what happened was kinda predictable although we weren't expecting it at first. Both the teams failed to score a single goal and the whole evening was spent in chasing, pushing and the players faking to be seriously injured. We found the game play to be quite poor however the keeper's were fabulous but that could be overlooked looking at both the teams' poor aims as well. Watching it on television would have definitely seemed boring but the adrenaline rush a live game gives is too much to ignore.
The evening was crazy with so many of us there, it couldn't have gotten better. And there, we ended our night with a customary bestie selfie! :D