Gamay isn't a wine you hear mentioned very often.  Usually associated with Thanksgiving it is the grape is pressed for Beaujolais.Beaujolais Nouveau is the first release of the harvest usually the Thursday before Thanksgiving.  It is a lighter bodied wine that does go well with Turkey.
However, Gamay should be consumed all year long.  Slightly chilled, it's especially nice in the summer.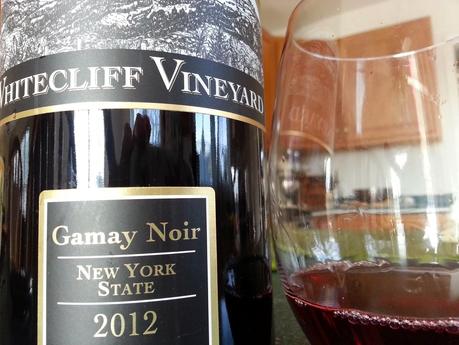 The Hudson Valley and Finger Lakes regions of New York grow a bit of Gamay Noir and I had the pleasure of tasting Whitecliff Vineyard's 2010 Gamay.
I must say the color of the wine was beautiful, very raspberry.  The wine was on the acidic side but nicely oaked which calmed down a bit of the acidity.  Earth and bright cherry on the nose leading to bright cherry and raspberry on the palate with a hint of vanillin.
Try this wine at your BBQ slightly chilled.  You might be pleasantly surprised how well it pairs.