What we intended as a mere stopover on a longish road trip from Austin Texas through to Lafayette in Louisiana proved to be a lovely little visit tinged with the regret that we didn't have time to stay a bit longer. The motive for coming here was simple enough, apart from it being a half-way point. We wanted to see the sea again. We'd been inland for a couple of weeks and the idea of stopping somewhere on the shores of the Gulf of Mexico really appealed to both of us.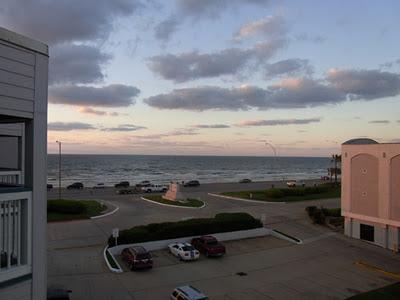 Here' s the view from the less-fancy-than-it-sounds Casa del Mar, where we stayed in Galveston, of the Gulf shore in the morning. Another fine day with temps in the 80s, cooled by a sea breeze, was in store.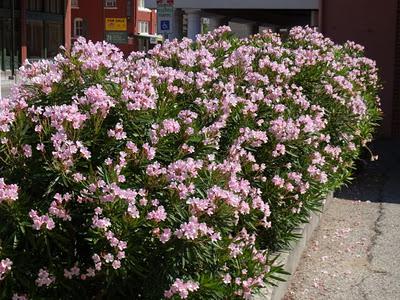 Gardeners might even struggle to understand this bit, but I was also here to see the oleanders. I had heard that Galveston was famous for its oleander displays. The truth worked out to be a bit less wonderful than that. Yes, there are oleanders everywhere, and they often look like this, about 1-2 metres tall at best and most pink-flowered, although apricot bloomers were spotted here and there. They hardly knocked your socks off with the displays, but they do look nice enough. As Galveston is mostly a sand island, it just proves that if you are living in a hot and sunny spot with poor sandy soils, oleanders will never let you down. Just don't eat them!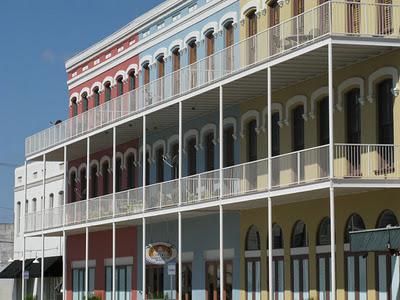 What we didn't know much about was Galveston's history, and that's what gobsmacked us as we drove around the place. Streets upon streets upon streets of lovely old weatherboard, two-storey homes, plus a large 'old town' area comprising several blocks of historic business premises, such as this one.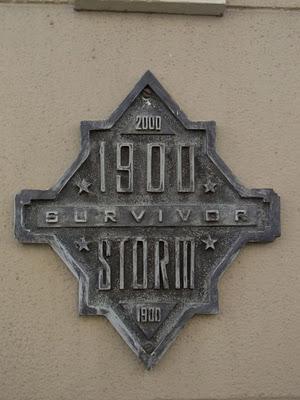 Some of the buildings wore this plaque, attached in 2000 to mark the centenary of Galveston's (and America's) worst natural disaster. A hurricane flattened the place in 1900, killing somewhere between 6000 and 8000 people, which must have been almost everyone there at the time. After that they built a sea wall to protect the town, but back in 1900 Galveston was just an exposed sand island which formed a natural harbor between itself and the mainland. When the hurricane hit, the sea engulfed the whole island and many of the inhabitants didn't stand a chance.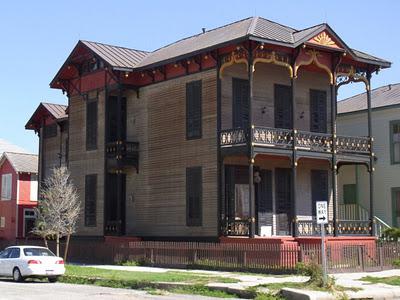 Lovely as the historic central business district is, it's the residential areas surrounding it which are the real trip back in time. It's not just a couple of streets' worth of historic houses, it's dozens of streets in each direction, hundreds of blocks. We stopped off in just one street to take some photos and almost all these photos are from there. Elsewhere the houses are of the same period; in the less affluent areas of town the old houses are simply lived in and not always in the best condition, but there are so many hundreds and hundreds of these old houses to admire as you drive around.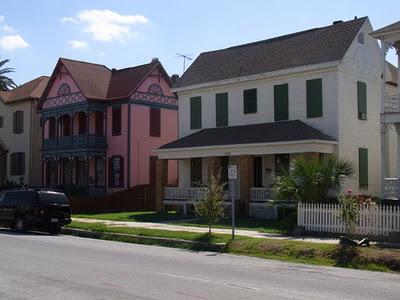 Locals aren't afraid to paint their houses in bright colours, either.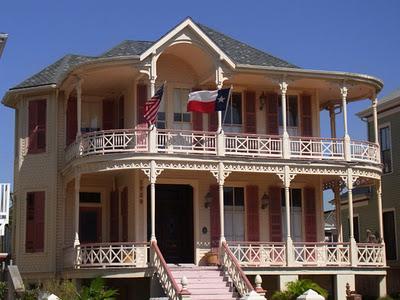 In this area fairly close to town many of the houses were being painted and redecorated, and some looked a bit 'chocolate box' new, but give them five years of weathering and they should look perfect.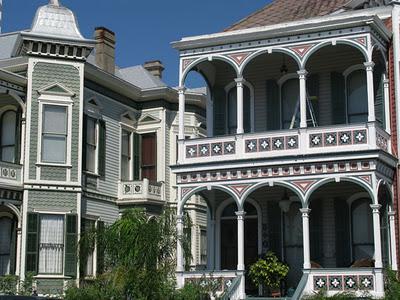 No two houses were alike. I've always been a fan of higgildy piggildy as a streetscape style.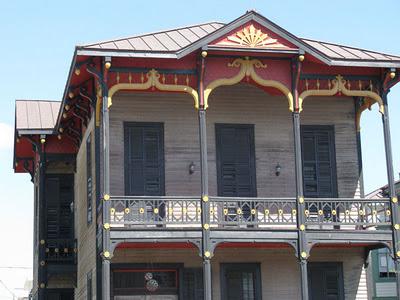 Local painters are doing a roaring trade.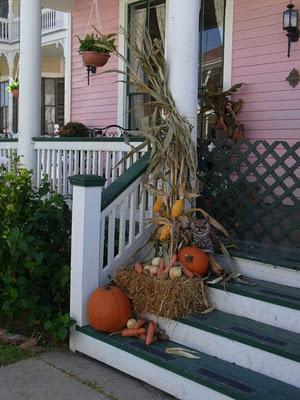 All the houses look to be lived-in. When I saw this charming 'harvest season' arrangement on a front porch I first thought there's probably a 'Martha Stewart Living' magazine reader living here, but then again maybe they've been doing this for generations, without any tips from Martha to help them rediscover their roots?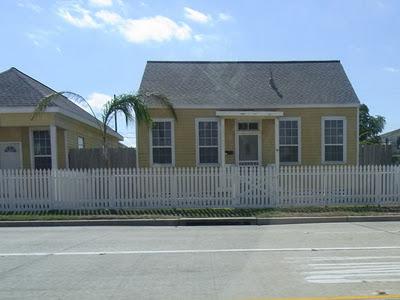 Down by the harbourside area several, a row of modest workers' cottages still stands. While the grand mansions are also here in numbers in Galveston, and tourists flock to tour them, I was impressed by the way all the different classes – rich, middle and working – still had plenty of old houses standing, and being lived in. So often the term 'historic houses' really means 'rich people's old houses' and that always irks me. I'm more interested in how ordinary people lived, and Galveston preserves that superbly.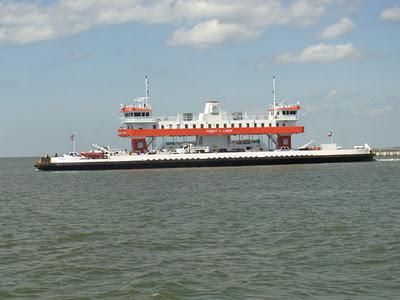 Alas, we had already booked and paid for our accommodation in Lafayette, Louisiana, and so by mid afternoon we had to leave. The bonus treat was the way we left, accompanied by a pod of dolphins! We discovered there's a car ferry to the next sand island up the coast – Bolivar Peninsula – which saved us many road miles, a few hours and the hassle of going via Houston. And so we caught the (free) ferry for the 20 minute ride across the bay.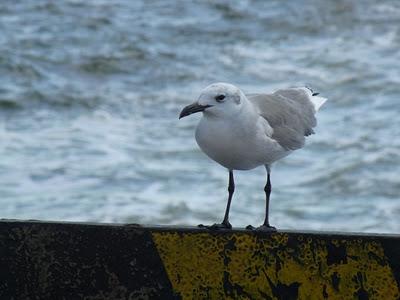 One local bid us a fond farewell and said 'come back soon'. Well, no he didn't, I made that up. He went 'crawww crawww' but in seagull language I think it means come back soon, or maybe give me some food. Anyway, we said goodbye.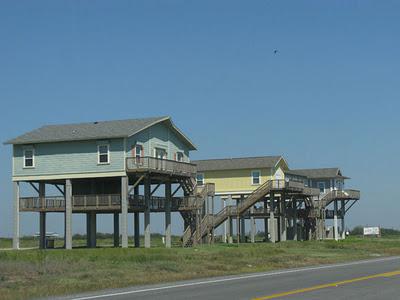 Bolivar Peninsula turned out to be an amazing place, too. Now this is probably like Galveston Island was back in 1900, just a very long, flat and exposed sand island. And so every house here, and there were miles and miles of colourfully painted houses here, sits up on the tallest stilts, hoping the stormy waters will merely swirl below them instead of carrying them away. Good luck, Bolivaris!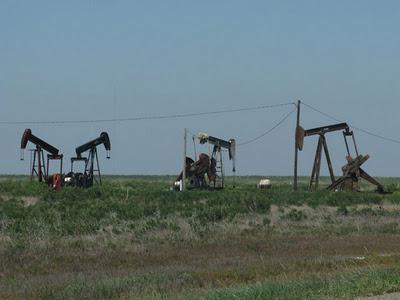 Towards the end of the long drive along the Bolivar Peninsula these oil derricks popped up in clusters, slowly nodding and dipping, nodding and dipping, as they pumped up their earnings.

Fortunately for all of us, I won't conclude this little postcard from Galveston with a You Tube clip of Glenn Campbell singing his hit song, but should you ever somehow find yourself in Texas, not sure where to stay, here's a hint. Stay in Galveston not just one night. Book in for a few. There's lots of good seafood here, and along the long beachfront boulevarde the place is like a typical beachside tourist resort, with neon lights, burger joints and hotels aplenty. But behind the glitz is an historic town that's a very special place to visit.