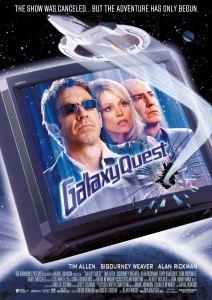 DreamWorks 1999 sci-fi/comedy satire "Galaxy Quest" will soon turn into TV-Series by Paramount Television. The story will base on the original film centered on the cast of a canceled "Star Trek"-like space opera TV show who are accidentally sent to a real spaceship and must save an alien nation.
What's unclear is whether any of the film's stars will return for the potential series; Tim Allen? Sigourney Weaver? Alan Rickman? Tony Shalhoub? Sam Rockwell? Daryl Mitchell? and Enrico Colantoni? We don't know yet! 1999 absurd sci-fi comedy's scribe Robert Gordon is expected to pen the TV version and executive produce with director Dean Parisot, and producers Mark Johnson and Melissa Bernstein.
There has been many attempts to blend Comedy and Sci-Fi in the past, most notably the early 1990s British sitcom "Red Dwarf" and the beloved long-running animated series "Futurama", will it work again?
B.