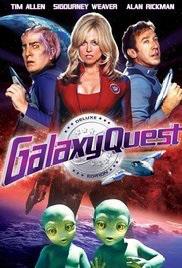 Director: Dean Parisot
Writer: David Howard, Robert Gordon (Screenplay) David Howard (Story)
Starring: Tim Allen, Sigourney Weaver, Alan Rickman, Tony Shalhoub, Sam Rockwell, Daryl Mitchell, Enrico Colantoni, Robin Sachs, Patrick Breen
Plot: The alumni cast of a space opera television series have to play their roles as the real thing when an alien race needs their help.
There may be spoilers the rest of the review
Verdict: Perfect Parody
Story: Galaxy Quest starts as we see a cult television crew of Galaxy Quest Jason Nesmith (Allen), Gwen DeMarco (Weaver), Alexander Dane (Rickman), Frew Kwan (Shalhoub) and Tommy Webber (Mitchell) at a convention in their name hosted by fan Guy Fleegman (Rockwell). We see how the actors have never really made too much of their career since the show and the tension between them is clear. At the show Jason finally learns the truth on what fans see of him but everything is going to change when Mathesar (Colantoni) approaches him for help.
The cast find themselves being taken on board of a real spaceship by Mathesar to help them fight Sarris (Sachs) who has been trying to take over their people and they see the cast as real space fighter that conquer all enemies. The washed up actors have to step up and fight in the battle in an adventure they never thought they would have.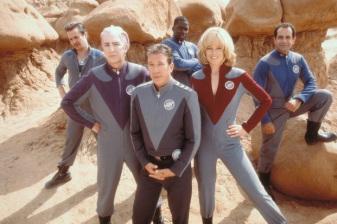 Galaxy Quest manages to give us something many films have tried and failed to achieve and that is taking a fan favorite franchise and parodying it. We get a clear copy of Star Trek with the campy space adventure that is Galaxy Quest even with the built in tension between the actors which we know was around during the convention scene. Putting actors in the middle of space battle works because we know they are out of their depth but having nearly all of the actors feeling washed up works for this because we know how certain shows have always been the main fame for certain actors. This is filled with laughs, adventure and entertainment.
Actor Review
Tim Allen: Jason Nesmith is the actor who played Commander Taggart on the television show Galaxy Quest, he is the most famous of the cast always putting himself before the rest of the cast. Jason is clearly based on William Shatner and Captain Kirk and his over the top nature. Tim is great in this role working perfectly for the role.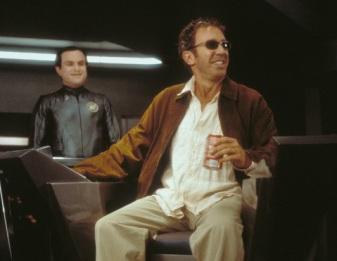 Sigourney Weaver: Gwen DeMarco is the female leading actor of the show that really was only in the show to have sex appeal, she never realised this until the is on the adventure but has always had chemistry with Jason. Sigourney has great fun with this role where she pokes fun at being a sex symbol in the sci-fi world even at an older age at the time of this release.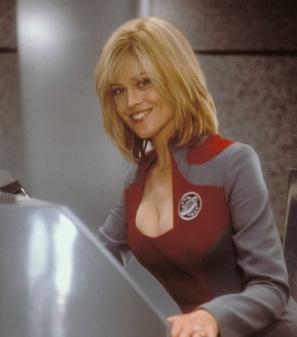 Alan Rickman: Alexander Dane is a British actor who has always felt like he was meant to for more in the acting world instead of the cheese sci-fi world. He has always disagreed with Jason due to his belief he has stolen the spotlight and is a copy of Spook. Alan is great in this role perfectly fitting the British actor in films that won't get awards.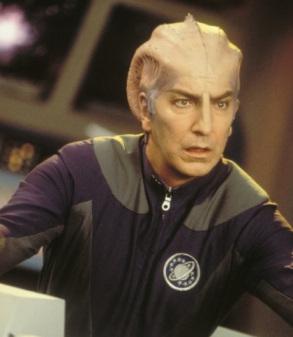 Tony Shalhoub: Fred Kwan is an actor from the show who always seem to be out there, he comes off very distant to the rest of the cast and has to use the technical side of his character in the show skills. Tony is good in this role where he ends up getting laughs without doing much.
Support Cast: Galaxy Quest has a big supporting cast that all work for where the story is going with Sam Rockwell really showing his comedy levels.
Director Review: Dean Parisot – Dean nails the comedy parody adventure perfectly with his direction.
Adventure: Galaxy Quest puts our actors into an adventure they never thought they would end up in.
Comedy: Galaxy Quest has laughs in nearly every single scene poking fun at the Star Trek world.
Sci-Fi: Galaxy Quest puts our actors in the middle of a sci-fi adventure like the fictional world they have been working in.
Settings: Galaxy Quest uses the sci-fi settings perfectly to show where the characters end up going, be it the ship recreation, the planets they visit or the comic con the actors are part of.
Special Effects: Galaxy Quest has special effects that still feel fresh to this day with the creation of the alien species.
Suggestion: Galaxy Quest is one that I feel everyone should have watched at least once. (Watch)
Best Part:  The landing.
Worst Part: I would imagine the die-hard Star Trek fans might not like it.
Believability: No
Chances of Tears: No
Chances of Sequel: Could have one
Post Credits Scene: No
Oscar Chances: No
Budget: $45 Million
Runtime: 1 Hour 42 Minutes
Tagline: Never give up, never surrender!
Trivia: Tim Allen admitted that he was quite star-struck when he met Sigourney Weaver, as he's a huge fan of Alien (1979). Allen even got Weaver to sign some of his Alien memorabilia between takes.
Overall: Brilliant parody that has laughs in every single scene as well as a serious side when needed.
Rating