The Note lineup has been widely acclaimed for its unusual size and the revival of the stylus technology.  What started as a smartphone has now entered the tablet computers market. While the Note 10.1 is already available in the marketplace, a new 8incher slate is also about to hit the market shelves. As you can guess, the Note 8.0 is for the market for smaller tablets. Ironically, Samsung had already produced several 7incher tablets in the past. But none of them succeeded.
While the smartphone market respects the South Korean manufacturer for its endeavors, but it is a different story in the tablet PC marketplace. Even the Note 10.1 has not been successful thanks to the processing capabilities. Hopefully, the upcoming Note 8.0 will not suffer from these troubles.
The Galaxy Note 8.0 is expected to flaunt a quad core central processing unit, Android Jelly Bean operating system, 2 GB of RAM, & a 1,280 by 800 pixels screen (a far better resolution in comparison with the iPad Mini touchscreen). Samsung is probably gearing up to officially unveil the slate next month at the Mobile World Congress.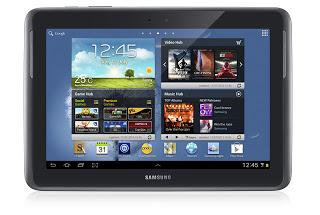 As expected the Note 8.0 will arrive with Samsung S Pen stylus. We have been keen to see a slate that truly takes benefit from the S Pen abilities. Several photographs have been leaked of what is touted as the Galaxy Note 8.0.
The Galaxy Note 10.1 also needs to be introduced.   The Samsung Galaxy Note 10.1 is obviously 10incher in size. It is powered by a mighty quad core chipset & the S Pen stylus is also present. The poor screen resolution & the absence of Android Jelly Bean software are disappointing. The Note 10.1 seems similar to the Samsung own Galaxy Tab 2 10.1. Both the devices are of the similar size and both possess somewhat additional space to the left & right of the touchscreen (when kept horizontally). It is not the best of designs & obviously will not trouble the iPad edge to edge glass frontage.
In our view, the Galaxy Note 8.0 is a way better offer. If it is accompanied by a powerful processor, we will definitely recommend it. And of course the stylus needs to be enhanced as well.
Both the tablets seem great proposals for the tablet buyers. There are several deals available for both the thingies. You should log on to your favorite comparison portal to get the suitable deals.