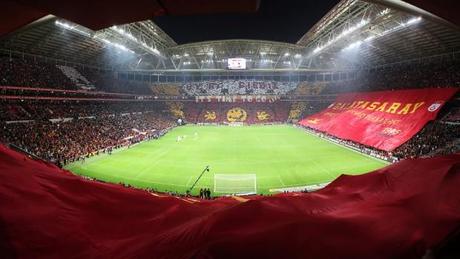 Note: This was originally published on the Turkish Football News website.  Since I am the original author, I have republished it here on SimplyFutbol.
Two articles recently written on the internet (one from Italian financial auditor Luca Marotta and one from the French language football business news website EcoFoot) highlight a major warning sign for one of the Turkish league's most successful clubs in Galatasaray. With a recent report from TRT Spor that Galatasaray's net debt has now eclipsed 700 million Turkish liras, it partially shows a major problem that Galatasaray have had for the last few years. Galatasaray have economic issues, and these issues will potentially subject them to new sanctions from UEFA in terms of violating their financial fair play initiative.
Currently, Galatasaray are under a two year settlement with UEFA in regards to financial fair play. They had agreed not to increase employee benefit expenses, and to undertake initiatives to become compliant with the initiative's break-even rule by the end of the 2015-16 season at the latest. A fine of €200,000, which will be withheld from Galatasaray's prize money for competing in Europe starting this season, was also issued.
The main critique of UEFA was due to having a €40.2 million net loss during the 2012-13 season. The costly signings of Didier Drogba and Wesley Sneijder that season, among others, contributed to this deficit. Galatasaray attempted to strengthen their squad to compete well in domestic and continental competition. The accounts from the club concerning the 2013-14 season saw Galatasaray with a net loss of €41.4 million. Because of this, the club has exposed itself to receiving new sanctions under financial fair play.
The €41.4 million net loss only shows a partial reflection of the accounts for the 2013-14 season. Debt has more than doubled from €52.2 million in 2011, to €118.5 million in 2014. While €30.7 million in new capital was injected into the club, this is not taken into account by UEFA under the initiative. Reimbursements of loans in the 2013-14 season alone for Galatasaray cost €20.7 million. Summing up the €41.4 million net loss, along with the €20.7 million in loan reimbursements during the 2013-14 season, and Galatasaray violated the €45 million break-even principle mandated by UEFA. This break-even principle is set to decrease to an allowed €30 million loss within the next couple of years. In terms of their operational revenue from 2013-14, revenue was €99.1 million. Their UEFA Champions League run was €21 million, and TV rights brought in €47.5 million.
One issue of particular interest is the devaluation of the Turkish lira against the Euro, British pound sterling, and US dollar over the last couple of years. The devaluation of the lira has made it harder for Galatasaray to alleviate its debts. The amount of debt for the club has risen in Euros but is not as large. It would depend on whether a base exchange from a set date is used. Thirty percent of Galatasaray's debt is in foreign currency (21.2% in US dollars and 9.9% in Euros). Most players at Galatasaray are being paid in Euros.
As noted in the financial fair play settlement, Galatasaray must reduce their employee benefit expenses, or their payroll. In the 2013-14 season, the payroll was €92.6 million euros, or 93.4% of the club's operating budget. In order to comply with financial fair play, UEFA has ruled that the maximum of employee benefit expenses must be 70% of a club's operating budget.
Galatasaray have made some moves in order to comply with the initiative. The contracts of former manager Roberto Mancini, former players Albert Riera and Johan Elmander were terminated. The contract of current Chelsea forward Didier Drogba expired at the end of last season, and Galatasaray chose not to renew his deal. All of these men were under contract to huge salaries.
One question in terms of compliance is would debt conversion to equity be allowed under the financial fair play initiative. This would be a creative way of altering the club's financial accounts. One catch to that though is if the shareholders of the club decide to exercise the option to cash in on that equity, the club, or more specifically the holding company, would be in trouble.
So in terms of UEFA's financial fair play, it isn't looking good for Galatasaray. While the club has made efforts to alleviate the debt that has been incurred, more will need to be done. UEFA certainly would appreciate the efforts incurred by the club so far. But if Galatasaray doesn't achieve the desired stipulations provided by financial fair play at the end of their settlement period (or even by the end of the current season), they may be subject to such sanctions as the withholding of revenues incurred during European competition, prohibiting registering new players for UEFA competitions, a restriction of players that can be registered in a UEFA competition, or worse, a full on ban from future UEFA competitions. At this point Galatasaray will need to make every initiative to comply, but whether they do so remains to be seen.