Tangy and refreshing fermented Carrot drink
During winters when the purple carrots are easily available in the market then this Gajar ki kanji or carrot kanji is the first thing which comes in the mind. This is used as a appetizing drink, as it is very good for digestion .
Gajar ki kanji is a sour fermented drink which is specially  popular in the states of Punjab, Rajasthan and Uttar Pradesh.This is specially made on the festival of Holi and during winters.
Though it is called Gajar ki kanji but few more vegetables can also be added in the kanji as per individual choice, commonly used vegetables are carrots, turnip, boiled potatoes, blanched cauliflower and beetroots.The kanji is used to drink and the vegetables added are used as pickle or side dish.
Usually this kanji is made with  purple carrots which gives a beautiful deep purple colour to the kanji but you can also make this with any carrot available. As purple carrots are not available here in Dubai so I used red carrots and to give a nice color to the kanji I have added few pieces of beetroots.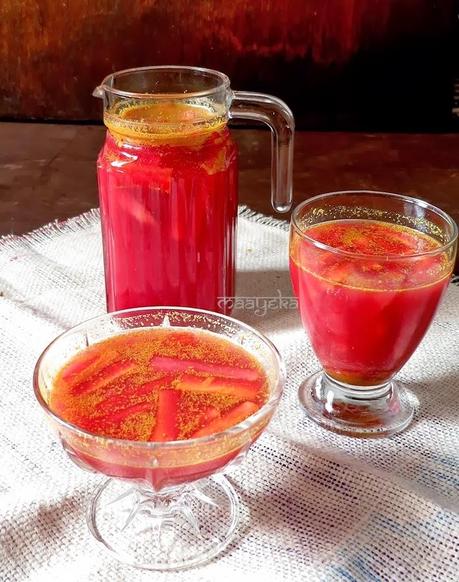 Mustard powder, black salt, asafoetida and chili powder are added in the water.After mixing the spices and vegetables the jar is covered with a muslin cloth and kept aside for about 4-5 days to ferment .The fermenting time depends upon the heat in the climate.If available try making this kanji in an earthen pot for the authentic flavor and feel.
Deep fried lentil nuggets/ Daal pakoras are also added in this sour kanji to make the popular Rajasthani dishKanji vadawhich is also made on the festival of Holi , I have posted the recipe of makingKanji vada here
GAJAR KI KANJI
Prep time -20 min
Cuisine -North Indian
Type -Side,drink
INGREDIENTS-
Purple carrots,sliced -3

Beet root,sliced -2 tbsp

Turnip /Shalgam,sliced-3/4 cup (optional)

Mustard powder /Pisi Rai- 2.5 tbsp

Black salt /Kala namak-1.5 tsp

Chili powder -1.5 tsp

Asafoetida/Hing-1/4 tsp

Salt - to taste

Filtered Water- 1.5 liter
PROCEDURE-
Scrape carrots, beets and turnip and slice them thinly.

Take water in a big bowl and add all the spices and chopped carrots,beets and turnip

Mix well and cover with a muslin cloth and keep aside in a warm place.

Let it ferment for 4-5 days and keep stirring 3-4 times a day.

When the water taste sour it is ready to use.

Keep refrigerated after a week.
Note-
If you want to add potato and cauliflower then add after 3 days when the water turn slightly sour.