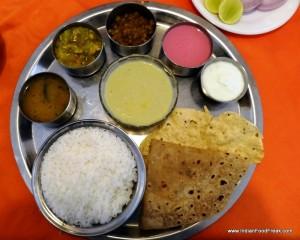 Veg Thali
A Bambaiya Foodie needs no introduction to the taste and charms of one of the finest Seafood Restaurants in Mumbai – GAJALEE, Vile Parle East. We have been regulars there for the last 15 yrs and we swear by the place. Whether to celebrate a special occasion or to entertain foreign, NRI and out-station guests, the name that comes to our mind for the Taste of Mumbai is inevitably Gajalee.
Though Gajalee specializes in Malvani cuisine, it's Tandoori, Indian and Vegetarian dishes are equally tasty and in demand.
In the Seafood section their Bombil Fry is the best in the city. Nice, crispy and melt in the mouth. The Crab Tandoori, Clam (Tisre) Koshimbir, Prawn Pickle, Stuffed Promfret are the dishes to try.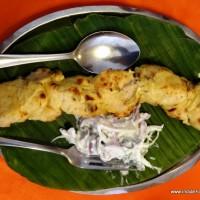 Reshmi kebabs
The Mutton dishes that are a must try are Mutton Dum Biryani, Mutton Nalli Curry, Mutton Chops and their Special Mutton Kheema that is only available on Friday and disappears the moment it is ready….. such is it's demand.
The Chicken Dishes that are recommended are Chicken Sukke ( in a thick gravy) to be had with Kombdi Vades. Special Chicken Masala with boiled egg in the gravy.
The gravy dishes are to be relished with Amboli( A kind of Appam) and Ghavne (A kind of Neer Dosa).
A Non-Vegetarian joint is usually avoided by Vegetarians but here their Vegetarian spread is not just tasty but have variety too. So, at a given time both vegetarians and non-vegetarians can relish the food served.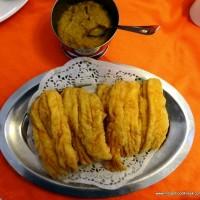 Bombil Fry
The Vegetarian must try dishes are Dahi Bhindi, Palak Khichdi, Dal Khichdi and Mixed Vegetable Curry Malvani Style.
Gajalee is also known for its Thali Meals- Veg.Thali, Fish Thali, Chicken Thali and Mutton Thali.
The Sol Kadi, is a quintessential part of every meal here and in my opinion, it should get the title of being the coolest cooler.
One finally ends the meal with a dessert and here one is spoilt for choice. From their yum Malai Kulfi to Gulab Jamun, they have an array of tasty and colourful desserts for every palette.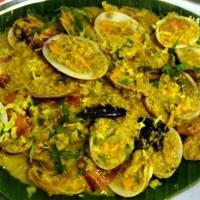 Tisre Masala
Their benchmark is their consistency in terms of taste, the freshest of ingredients that they use their pricing and their ever-smiling friendly staff. A centralized Purchase dept and Kitchen ensure that there is no compromise in the above. Mr.Santosh Singh, Senior Manager Operations was very kind to take us into their back areas to give us an idea of how things work. We were amazed at the spic and span kitchen with the work-stations well defined. With all the cooking that was on, there were no fishy smell to put one off. So, the Vegetarians should have no complains about eating here. The cold storage at a time has about 900 Kgs of Fish and Seafood but the freshness of the catch and its immediate consumption ensures that there is no fishy smell there too and the freshness of the catch had to be seen to be believed.
Awaiting another visit soon

Ratings out of 5
Food: 4  | Ambiance: 4 | Service: 4 |Overall: 4
Meal for two: INR 1500(inclusive of taxes), APC(as per catch) item prices vary day to day | Alcohol: No | Credit Card: Yes
Timing:12.00 pm to 3.30 pm and 7.00 pm to 12 midnight
Address: Gajalee, Kadamgiri Complex, Hanuman Road, Vile Parle (East), Mumbai- 400057
Telephone :+91 22 26114093/26166470
Post by Sandipa Tombat
Fresh catch
Crabs Galore
Fresh catch of the day
Prawn Pickle
Fish Fingers
Dessert Platter
The friendly staff
Interiors