Champion gymnast Gabby Douglas is designing some new leotards for her upcoming competitions at the World Championships.
One of her new leotards has been designed in a way that might very well interest you. It is definitely a curiosity.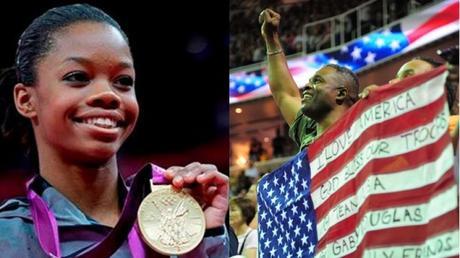 From GK Elite: (bold and underline added by me)
This scoop back gymnastics leotard displays an ombre sublimated bodice printed on shimmering holotek fabric with a mesh top. Unique style lines outlined in Swarovski® crystals add a dramatic touch to this stunning leotard. The Hebrew word "Elohim" (translation: The Strong One) was added to the left sleeve to honor her rich heritage of faith. Her sister, Joyelle "Joy" Douglas, created this custom design and worked with GK to bring this leo to life!
She is using the name of God on her leotard to call upon strength, perhaps to invoke God's strength, or trait of strength. Perhaps it will serve her well. I wonder if her Jewish teammate, Aly Raisman, will be wearing something similar. But why in Hebrew?
------------------------------------------------------
Reach thousands of readers with your ad by advertising on Life in Israel
------------------------------------------------------