Against All Evils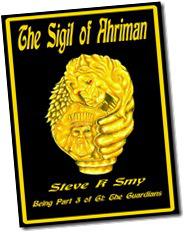 The Sigil of Ahriman is now available as a paperback!  So you have the option of reading the Amazon Kindle ebook version, which is available from all Amazon stores, or a very smart paperback.  I admit that the paperback version is the more expensive, but I'm afraid there's no way around that.   I wish there were!
The novella is the third in the G1: The Guardians series.  There is a sense, I hope,  of the backgrounds of the members of G1, and certain essential other characters, being revealed, in a kind of jigsaw form.  I think that this reflects how things work in real life – you learn about new friends, colleagues or whatever a little at a time, you don't sit down and exchange detailed life histories!  And so it should, I believe, work in fiction that is spread over a series.   Even in single volume works, I believe the characters should be given backgrounds over time, not all at once.  Bur I begin to digress!  Suffice to say, the histories of main characters will continue to grow over the course of the series.  The lives of the Guardians in a more general sense will be uncovered over time, too.  This novella begins that process, as well as being a great adventure for G1.
I'm also pleased to announce that I have finished part four in the series.  This new part is a full novel!  It takes G1 to an exotic location and into an unusual situation.  I won't say too much.  I think it's enough to state that it is an adventure unlike those which have already been related, with an exotic location, things that challenge scientific knowledge and more.
A Restructuring
I have encountered a problem when asked for links to information about my books.  Quite simply, there's no simple answer to the question.  I have pages with more information, but which don't give all the primary links for buyers.  So, to get around this problem, I'll be changing how the Published Works page functions.  It will be a gateway for more detailed information, but the purchase links will be removed from it.  Each book will have its own page, some of those grouped under a 'series header page' or link (I haven't decided yet).  I hope that this will be an improvement all around.
52.057772
1.143786