On April 23, 2013, LG Electronics hosted 'LG Tech Show -2013′ showcasing 70 new and innovative products along with 2013 line up for India. These included futuristic products like  OLED, Pocket Photo Printer, Song Star-Sing Along System and 100 inch Laser display. Not just that, LG also launched a new range of flat panel televisions.  A new range of Blu Ray home theaters was also launched.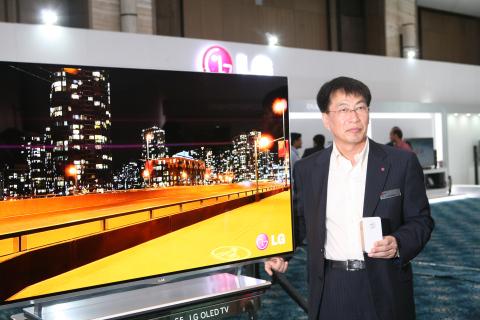 Mr. Soon Kwon, MD, LG India with LG OLED TV + pocket photo printer
Speaking on the occasion, Mr. Soon Kwon- Managing Director–LG Electronics, India said, "Technology and innovation are key factors behind LG's success. We want to further strengthen our business with a target of 20% overall growth in 2013. As India is a strategic market for LG, we strive to introduce Global flagship products as well as India Insight products, designed especially for the Indian market. We are introducing an entire new range of Flat panel televisions including Jazz and Transform TV, which reflects our thorough India Insight for consumer convenience. With our new range of new flat panel launches we are targeting 30% market share in FPD.
Some of the products showcased are:
OLED TV:
Among the products showcased was what LG Electronics India ­ ­is claiming to be World's largest and slimmest 55 inch OLED television. This next-gen TV is boasts of having superior picture quality resulting in more vivid and realistic pictures thanks to its WRGB technology. OLED TV is only 4 mm thin and weighs less than 10 kilograms.
LG PD233 Pocket Photo
Another product showcased at the Tech Show is called the LG PD233 Pocket Photo. Pocket Photo is a portable printer that can be connected to smartphones or tablets, and also computers with Bluetooth, NFC or an USB stick. This portable printer promises to deliver high quality prints while providing the user the convenience of wireless connectivity.
LG Laundry
Also showcased was LG Laundry that claims to be the largest capacity and fastest front-load washing machine providing superior performance with its 6 Motion Direct Drive Technology. According to LG, the machine allows the consumer to wash more clothes at a time, while also using less energy and water compared to other front load washing machines.
LG Evercool Refrigerators
LG Evercool refrigerators are designed for users that face long power cuts often. Its Power Cut Evercool technology enables it to stay cool for upto seven hours without electricity. Evercool Refrigerators' range is energy efficient and can save up to 20% energy.
Optimus G Pro
Optimus G Pro was also showcased.  Optimus G Pro has already gained much popularity, with over 500000 units sold within 40 days of launch in South Korea. Optimus G Pro has  5.5-inch Full HD IPS display. It runs on Jelly Bean Android Operating System. The smartphone is equipped with 3,140mAh battery that ensures long battery life. Internal storage is 32 GB, this can be expanded to upto 64 GB. Optimus G Pro  has 13 megapixel main camera with LED flash. Front camera is 2.1 MP.
Hecto" Laser Display
Also showcased was LG's latest innovation in display technology. The product showcased in this category is called "Hecto" Laser display. Hecto boasts of having an innovative and futuristic home theater design. It has 1080p screen resolution that can create a 100-inch screen from only 22 inches. According to LG, 'It also has the capability of an all-in-one home theater to go with a digital tuner and 10w speakers built-in, with three HDMI inputs, an RS-232 port and Smart TV capabilities.'
PC line-up
LG also exhibited an impressive line-up of PCs. These include LG Tab-Book (H160) and LG Z360 Ultrabook.
The LG Tab-Book (H160) is a compact 11.6 inch device (15.9mm thick) that weighs 1.05 Kg. It offers the consumer a combination of a Notebook and a Tablet. It runs on Windows 8 OS. H160 has a battery life of upto 10 hours,
Z360 Ultrabook is only 13.6mm and has 1080p IPS display. It also runs on  Windows 8 OS and has 4th Gen Intel Core i3/i5/i7 processors.  According to LG, it can boot up in just eight seconds.
All in all, there were several very interesting 'techno treats' that were showcased by LG. Several of them look very promising and are sure to find much favour with the consumers.
***************