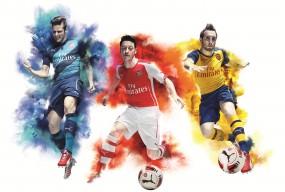 Future, Forever, Victorious. The New Arsenal Kit.
On July 10th, PUMA and Arsenal FC revealed kits for the 2014/2015 football season. Showcased through a heart-stopping 20 meter high water projection on the River Thames that featured Arsenal manager Arsène Wenger along with some of  the Gunners' first team players. A video of this moment will be available shortly.
Also on hand and on-site to debut the new kits were Arsenal players Mikel Arteta, Santi Cazorla and Mathieu Flamini and the magestic FA Cup; a new addition to the Gunners' team.  The launch came just a day before Arsenal confirmed Alexis Sanchez as a new Gunner.

Now to the kit story…these three kits feature a unique design inspired by values identified as being the foundation of the Arsenal FC that then formed the Future, Forever, Victorious story.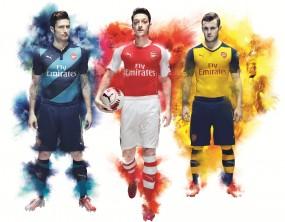 Puma Launch Arsenal Kit.
The Future kit will be worn by Arsenal during away games in Cup competitions. The blue and lime green kit symbolizes the desire for innovation and progression that has been key to the number of "firsts" Arsenal has contributed to the football game.
The Forever kit is the traditional home kit featuring the historic red and white Arsenal colors, first appearing on pitch in 1933. This is a kit inspired by the strong and loyal fan base that has been part of the heart of the team since its beginning.
Victorious is featured as a yellow and navy blue away game shirt that has been linked to incredible Gunner moments away from the home stadium.
The Home and Away replica kits and a full range of fan wear are available for fans to purchase now online at www.puma.com as well as many stores worldwide. The Cup kit or rather the Future kit will launch in-store and online on 8/14.