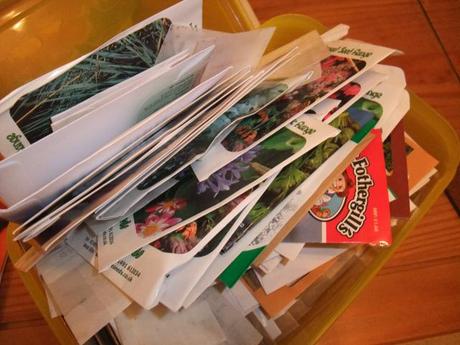 I am a self-confessed seedaholic.  I can't resist, its hopeless.  My addiction is really tested in the winter months when its hard to get outside to gardening and I find myself wandering around the internet in the evenings.
This evening I have decided I need to sort through the box which I can barely close the lid on as I really need to start the serious seed sowing for the season.  Alpines and seeds which need cold to break their dormancy have all, more or less, been sown back in January.  When we had a few warmer days earlier this week I found myself peering at the seed trays and muttering words of encouragement which I have to admit are beginning to get more and more impatient.  So far the Allium are the only seeds to have germinated outside.  In the greenhouse I have castor oil seedlings that desperately need pricking out which is a job for the weekend.  But most of the other things I have sown in the propagator haven't germinated yet and I wonder how much the low light levels are impacting as I am providing the right heat levels.   I took the precaution of not sowing all the tender seeds in one go and kept some back from each packet as I wasn't sure if I was sowing the seeds too early.  It is all very fascinating and this year I am trying to keep proper records on a spreadsheet – no doubt I will get to April and forget to update it.
Lurking in my seed box are everyday annuals such as Cosmos and Rudbeckia which I can't imagine a summer without.  Last year they didn't do very well partly due to the seemingly never-ending rain but also because I was stretched too far with the allotment.  This year I am hoping with only the garden to focus on I will be a good gardener and look after my seedlings better – we shall see!  There are various perennials such as Delphinium, Linaria and Lysimachia which took my fancy late in the evening.  Oh and more  seeds from the Hardy Plant Society and Alpine Garden Society such as Aquilegia and Geraniums which don't need cold to germinate.  Then there are the seeds from Chiltern Seeds that haven't arrived yet, I discovered they had a pale yellow foxglove while I was reading something late at night and well once on the web-site all hope was lost.  Oh and I also succumb to some Barnhaven Primrose seeds as I have a growing fascination with Primula and there is just time to sow them.
But it's not all ornamental, hidden amongst the packets of flowers are one or two vegetable seeds – some cucumbers for my eldest son. I have found in recent years they do better for me than tomatoes and I have read on several occasions that cucumbers and tomatoes are as different as chalk and cheese in their preferred growing conditions so its goodbye to tomatoes and blight and hello to the lovely cucumbers.  I also have some Carvelo Nero seeds as I want to grow them for winter eating and I think they will look quite stunning in the borders with the frost on them.
So now I must go and sort the packets out into some semblance of order.  I suspect I will then spend the evening wondering how on earth I am going to fit all the seed trays in the greenhouse and cold frames which are already full and it's too cold to start hardening plants off.  Tough decisions will have to be made but hopefully the results in the summer will be worth it.  Plus if I get some of the alpines to germinate then maybe next year I can start to think about entering my club's annual show which is at the start of April, who knows.