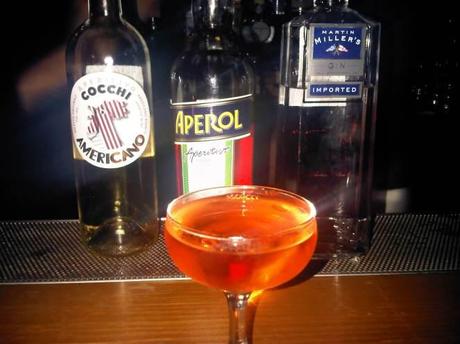 As you may already have read, I enjoy my Aperol. Not too long ago I wrote about the challenge I gave to a couple of bartenders to create an Aperol cocktail for me, but to include a stronger base spirit (Adventures In Aperol - Beyond the Spritz). I love my Aperol Spritz, but I was looking for something with a bit more bite, that's how the Treppo Grande Cocktail and the Celotti Cocktail were born.
I sat down at the bar of one of my favourites cocktail dens, Pourhouse, the other night and thought I'd give the same challenge. Pourhouse has an incredible lineup of great bartenders; Christopher, Brian, Patrick and Lachlan are all knowledgeable and passionate guy especially when it comes to mixed drinks, beer and coffee. This time I happened to be sitting in front of Patrick Reynard, so he's the one given the task, and he delivered!
He created what we decided to call "Il Padrone" which translates to "The Boss" in Italian. The cocktail is essentially a twist on the classic Negroni. If you're not familiar with the Negroni, the story goes that it was created sometime around 1919 in Florence, Italy when Count Negroni asked a bartender to make his Americano Cocktail with gin instead of club soda. The Negroni looks something like this:
________________________________________________
The Negroni
1 oz Gin
1 oz Campari
1 oz Italian Vermouth
Method:
Combine ingredients on ice and stir
Strain into a chilled short glass
Garnish with a flamed orange zest
________________________________________________
The above method is my preference, but there seems to be some disagreement, even amongst the greats, on the "correct" method.  In his book, The Joy of Mixology, Gary Regan calls for it to be built over ice in a rocks glass. In The Craft of the Cocktail, Dale DeGroff says it should be built over ice in an old fashioned glass then stirred. In Vintage Spirits and Forgotten Cocktails, Ted Haigh calls for the ingredients to be stirred on ice then strained into a small cocktail glass. David Wondrich's Killer Cocktails also calls for stirring on ice and straining, but he does note that some may prefer it served over ice.
The garnish also hasn't been agreed on. Everyone concurs that it should be orange, but that can be in the form of an orange twist, flamed orange peel, or an orange wheel, and Campari's website calls for "a generous orange wedge".
In the end I think it's a matter of personal preference. I prefer mine straight up as long as its ice cold with a flamed orange peel. Many of my friends prefer the drink served over ice with an orange twist. I don't like the orange wedge idea, because many drinkers will habitually squeeze it into the drink which I think makes it too sweet and blurs the distinct flavours of each ingredient. It also makes a delightfully clear red cocktail murky.
In any case, that's the Negroni. The cocktail that Patrick whipped up is a variation on the above. As I noted in an older post, Aperol is seen as the shy little brother of Campari, so it can be used in very similar fashions. In this case Patrick keeps the gin component, but uses Aperol as the bitter ingredient instead of Campari, he then employs Cocchi Americano as the sweetener instead of Vermouth.
________________________________________________
Il Padrone – By Patrick Reynard of @Pourhouse_Van  (Pictured Above)
1.25 oz Martin Miller's Gin
1 oz Aperol
1oz Cocchi Americano
Method:
Combine ingredients on ice and stir for a long time
Strain into a short cocktail glass
________________________________________________
Patrick used Martin Miller's gin, but you could also use Tanqueray for a more easily accessible gin. If you do, you will probably need to take the proportion up to about 1.5 oz as the Tanqueray isn't quite as dry as Martin Miller's.
Cocchi Americano is most closely linked to Lillet Blanc, or more specifically Kina Lillet. I've heard some describe Cocchi as "What Lillet used to be" or "What Lillet is supposed to be". I won't get into this topic too deeply here, but the reasons for these sentiments is that a few short decades ago the company that produced Kina Lillet, which is called for in many classic cocktails, decided to change their recipe to keep up with the times by making it, according to their old website, "fresher, fruitier and less bitter" (Their website is currently being "overhauled" as of this writing.) The problem with this, of course, is that all the cocktails that were invented prior to this change would now taste different including one of my favourites, The Corpse Reviver #2. This is where Cocchi Americano steps in. Cocchi Americano is an Italian fortified wine made, like Lillet Blanc and Dubonet, with Quinine. Most importantly it tastes very much like Lillet blanc, only more bitter and slightly sweeter, which far more closely resembles the original Kina Lillet than does the newer Lillet Blanc.
In any case, I digress, but all that was only to say that if you are making a cocktail that calls for Kina Lillet, or one that calls for Lillet Blanc where the original was actually invented prior to 1986, you're better off using Cocchi Americano. And secondly, if absolutely necessary you could probably use Lillet blanc in this drink if you don't have Cocchi Americano, but I would then probably recommend adding a dash of orange bitters. Patrick recommended using Regan's Orange Bitters. So a variation on Il Padrone using easier to find ingredients would look something like this;
________________________________________________
Il Padrone (Variation)
1.5 oz Tanqueray Gin
1 oz Aperol
1 oz Lillet Blanc
1 dash Orange Bitters
Method: