Furniture design can be one of the most rewarding, albeit, deceiving parts of the interior design process. It's not as easy as one might think. You can go wrong as quickly as you can go right, but when it's right—the net result in amazingly satisfiying. It's all in the "perfect fit," like most anything. A stunning amount of time and focus goes into tailoring a piece of furniture. The eye and the hand must coordinate seamlessly, and often working in tandem with other eyes and hands to achieve a final design or product. Our world is a mob-scene of great design followed immediately by a parade of knock-offs that seem to be happening simultaneously. The noise–factor for clients is incredible, and figuring out how to understand the value feels unraveling when it's not your forte. In our studio, we have an opinion that taking on the time, energy, expense and initiative to hire an interior designer deserves the awesome reward of a beautifully personalized, well–executed and uniquely tailored space. I find that furniture design plays a very important role. Slideshow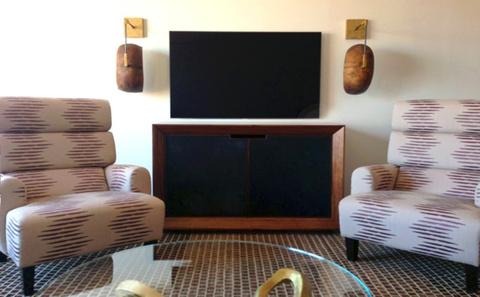 I recently designed this TV console and chair for a project on the Upper West Side in New York. The oversized chamfer detail on the console draws the eye to the integrated door hardware and leather wrapped panels. While we are still prototyping the "DMc Channel Chairs," one of the big compliments from this client is on the size, scale and comfort.
When I approach designing a piece of furniture, I pull my design ideas through four key areas of consideration:
Ergonomics–Determining overall size, scale and best function–designing the right piece for the right use with the right fit is foundational.
Artisanal Quality–I like to work with artists or masters of craft–the commitment to the process is almost always more genuine and more profound, as well as understanding of materials.
Material selection–I focus on sturdy materials that are beautiful and forgiving–furniture is meant to be used and needs to be produced for longevity and with the concept of patina in mind.
Finish details–Be bold. Everything you design should have a voice and a level of design saturation that speaks with it's own point-of-view. Think about the details–what takes it forward?