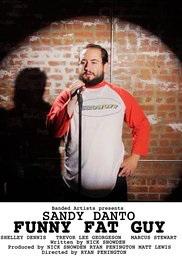 Director: Ryan Penington
Writer: Nick Snowden (Screenplay)
Starring: Sandy Danto, Shelley Dennis, Marcus Stewart, Trevor Le Georgeson, Timothy A Bennett, Jennifer Sterger, Randolph Adams
Plot: Charlie McStean is a struggling stand-up comic searching for laughs and can only find booze, drugs, and fast food
There may be spoilers the rest of the review
Verdict: Dark Vision of Stand Up World
Story: Funny Fat Guy starts as we meet Charlie McStean (Danto) a grinding stand-up comedian just looking to make a break for himself, he does have a circle of friends who are also in the game as we see Charlie dealing with drink and drug problems along the way.
Wondering whether to give up the grind and find a future in Hollywood all as barmaid Anna (Dennis) enters into his life. With his friends starting to get small chances Charlie faces his on future head on.
Funny Fat Guy is a story of a struggling comedian and how he has spiralled out of control after missing his moment. We get to see how this can affect his life which could happen to anyone in their own field of desired fulfilment. This story is easy to follow and you do start routing for Charlie to succeed through the duration of the film.
Actor Review
Sandy Danto: Charlie McStean is a grinding stand-up comedian who works as a substitute teacher for extra money. He has a circle of friends who help each other out along the way but Charlie is stuck living in regret of missing his only chance to make a name for himself. Sandy is good in this role where we see him look like the complete struggling comic star.
Shelley Dennis: Anna Sullivan is a barmaid who gives Charlie supporting because she knows about the struggle of trying to make it in Hollywood. She sees charm in Charlie and will try her hardest to see past his flaws. Shelley is good in this role but only really a supporting role within the film.
Marcus Stewart: Dexter Lake is one of the closest friends in the industry for Charlie, he has his own ideas to make a name for himself which does drive part of Charlie's desperation to make his name. Marcus is solid in this supporting role but doesn't get enough screen time.
Trevor Lee Georgeson: Taylor Davis is a successful comedy that gets recognised around town who helps Charlie to meet the right people to make a name for himself. Trevor does a good job being the opposite to Charlie's character's success.
Support Cast: Funny Fat Guy has a solid supporting cast that all become part of the story of Charlie.
Director Review: Ryan Penington – Ryan gives us a good look at the grinding level of stand-up comics.
Comedy: Funny Fat Guy dos have good laughs with the jokes going on throughout but doesn't take away from the serious side.
Settings: Funny Fat Guy keeps most of the settings in locations where we see how the comics have to work through.
Suggestion: Funny Fat Guy is one to try especially if you want to see where comedians start. (Try It)
Best Part: Seeing the darker world of stand-up comic world.
Worst Part: Not going to be for everyone
Believability: You could see parts being real.
Chances of Tears: No
Chances of Sequel: No
Post Credits Scene: No
Oscar Chances: No
Runtime: 1 Hour 24 Minutes
Overall: Dark look at the stand-up world.
Rating