Paint the Town Red 2013 & Hello,Sweetie! Podcast
#FundingFriday
Fri at NoonPT/3ET
Hello, Sweetie!
While we tackle technical difficulties (finding wifi in a storm), read about Aron's Interactive Light Show below!
Hello,Sweetie! Podcast wants to take our all-female geek-themed podcast to comic cons to expand our audience and our mission to empower female geeks everywhere! Find out more here.
Also this week, Aron tells us about his project:
Interactive Light Art — Paint the Town Red 2013
CMJ: Can you explain your project in one sentence?
AA:
This is a visual experience bringing large-scale light art to the hands and creative minds of ordinary people, inviting the audience to become and create the spectacle of the installation.
CMJ: Why are you bringing this to your hometown and what do you hope to unleash?
AA:
 I've been following Paint the Town Red for several years and have been very excited at the amazing art it has consistently brought to Birmingham. I left Alabama to learn and discover new things, and am really excited to return and give back to the community that so deeply influenced my artistic roots. I'm really looking forward to seeing the spirit of the community emerge from the works they'll create in light on the brick of downtown Birmingham.
CMJ: How does this project fit into your overall art & life goals?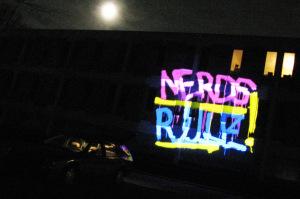 AA:
I've always been fascinated and obsessed with light as a medium — I was trained very early on by my photographer father to see and feel light, and ever since it's been a constant for me. This takes that to a new level, creating works of art from pixels and projections. I love the idea of completely breaking down the traditional "fourth wall" of performance art and turning the whole thing on its head so that the audience becomes the performance. Working with interactive art and technology like this, that's what it's all about.
 CMJ: What's the coolest perk you're offering: the one you would choose if you could!
AA: Personally, I would go for the perk where you get to choose a facial hair style for me to sport. I'd get a few people together and come up with some crazy tye-dyed fu manchu idea. Aside from that one, the behind the scenes short should be pretty cool too!
Donate or watch his pitch