Fun Wedding Photography
Image of the Week
Our clients have some of the most awesome ideas. Whether it is having ferrett races, or riding mechanical bulls – our couples know how to have a great time. I picked this image from Rich & Will wedding because I think that paper aeroplane confetti has got to be one of the most awesome ideas ever of all time. Ever.
I'm going to admit that I was a little bit nervous when they said they wanted to throw paper aeroplanes. I don't know about you, but nearly every paper plane I made when I was a kid (and an adult) entirely failed to fulfill it's basic duty  – flight.
No sooner would they go up than they would go straight back down again.
And then there is the wind….what if it was super windy or windy in the wrong direction? ARGH so much to consider!
However, I shouldn't have worried…I am not sure what kind of aeroplane making magic skills Will has – but each and every one of those planes launched through the air like a missile.
So if you still haven't made any confetti plans…. I think you may have new confetti goals.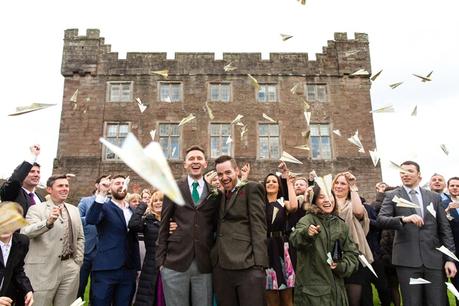 Are you planning a wedding and need fun wedding photography to match your super fun wedding? Well drop us an e-mail – we would love capture all the shenanigans.