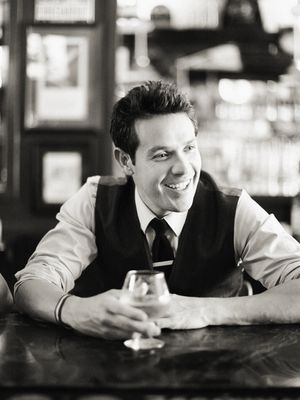 We all know that Season 4 of True Blood is going to be the season of the witch.  During Season 3, we were introduced to Jesus and Holly and we saw the beginning of Lafayette's wiccan journey.  Although Jesus started out as a nurse to Lafayette's mother and a potential love interest for Lafayette, we quickly learned that there was a lot more to Jesus.  This season Alejandro has been upgraded to a series regular so we can expect to see a lot more of him and the LA Times has compiled a short list of things we should know about him. 
1.  He's joining the shirtless ranks – let's face it True Blood is not afraid to show off the assets of their cast and during Season 4 we will be seeing a lot more of Jesus!  When asked if Alan Ball was going to have him going shirtless this season, Alejandro replied:
"Come on, it's 'True Blood'!"
2.  He has fun with the man-love – a lot of straight actors might be uncomfortable playing the intimate scenes between Jesus and Lafayette but not so for Alejandro.  When asked about shooting those scenes with Ellis he says:
"We keep it really light and have a lot of fun. And it's really clear we have a great chemistry. I've learned a lot just watching him act."
3.  He's an unlikely pioneer – not only is he playing a male nurse but he is also a male witch. 
4.  He's a dad – Alejandro and his magazine editor wife are the proud parents of a 3 year old boy. 
Tune in to HBO Sunday nights at 9:00pm to keep up with Jesus and the rest of the True Blood cast during Season 4.
Source:  LATimes.com – Meet Kevin Alejandro: 'True Blood' Has a Magic Man
Photo Credit:  Matt Edge