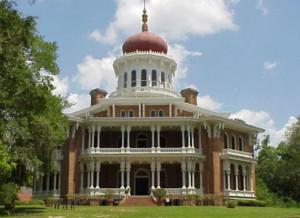 True Blood season 4 spoilers have been trickling in for the past few weeks and that trickle will most likely become a somewhat steady stream as we approach June 26th.  Bookies ♥ True Blood has posted some fun and interesting facts about our favorite TV show, some of which we didn't know!  A few of these are listed below, and be sure to head on over to Bookies ♥ True Blood's Facebook page for even more facts.
The part of Tara Thornton (Rutina Wesley) was originally given to Brook Kerr (Passions). Wesley replaced her after two episodes were filmed. All of Kerr's scenes were re-shot.
The exteriors for the mansion home of Russell Edgington (Denis O'Hare), the Vampire King of Mississippi, and his husband, Talbot (Theo Alexander), were filmed on location at Longwood, a mansion in Natchez, Mississippi. Longwood is unusual in several respects: it is an octagonal structure, an architectural style that was otherwise unknown at the time in the region; the tower has a large, onion-shaped dome on its top; and because the Civil War interrupted its construction, it has never been completed – the family that commissioned it was never able to live in the main part of the house and instead furnished the basement. Longwood is a registered National Historic Landmark.
Russell Edgington favors Waterford crystal. His mansion is filled with pieces, and the urn containing Talbot's remains is also by Waterford. According to True Blood's production designer, Suzuki Ingerslev, the pieces were lent to the production by the owners of the famous Irish crystal manufacturers because they are fans of the show.
Ian Somerhalder auditioned for True Blood but wasn't cast. He went on to be hired as a star of the vampire-themed series The Vampire Diaries.
The yellow dress that Sookie (Anna Paquin) lets Jessica (Deborah Ann Woll) wear to go visit her folks in season 2 is the dress Sookie wore during the infamous dirty cemetery sex scene.
Have any fun and / or interesting facts about True Blood, Truebies? Share them in the comment section below!
Source:  Bookies ♥ True Blood - TB Fun Facts
Photo Credit: Design Crave