When considering a full vs. queen mattress, it's really the bed size you are thinking of. There is no point in using a full size mattress on a queen size bed base. What is the difference between them, and which is best for you? It's not always a matter of personal preference.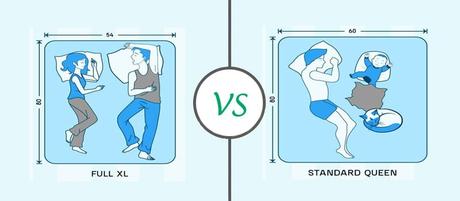 First, let's define what is meant by the terms full and queen when applied to mattresses and the width per person when each is used for two people.
* Room Size: Recommended minimum room size for the bed. This gives 30-inches free space right around the bed. Add on any extra space needed for other bedroom furniture.
There is also a California Queen option (84″ x 60″), though these are generally waterbed mattresses. Although the size you should use is not cast in stone, each is recommended for specific types of use. Let's look at each size in turn and discuss the full vs. queen mattress in terms of which is recommended where and for whom.
Full Size Mattress
Sleepers: A Full Size mattress is sometimes referred to simply as a double. As the name suggests, a double bed is designed for two people. However, we would recommend it only for a single sleeper. The 27 inches per person is no more than the width of a cot! It would not be comfortable for two people.
Benefits: A Full mattress provides ample room for one person. It is also less expensive overall than a Queen bed due to its relative dimensions. It's not just the cost of the bed and mattress you should consider, but also the bedding: the sheets, mattress cover, comforter, duvet and duvet cover and the topper if you use one. All of these add up to a significant saving over a Queen mattress if it is only for one person.
Negatives: The 75-inch length will likely be too small for taller people. A 6-foot tall sleeper would have only 3 inches to spare, likely too tight for comfort.
Queen Mattress
Sleepers: The extra 6-inches of width render this size more suitable for couples - though not perfect. Additionally, the extra 5 inches in length makes it more suitable than the Full mattress for taller people. Many buy this size of the mattress for teenagers or smaller adults.
Benefits: The Queen mattress is more suitable than the Full size mattress for couples and taller singles. It is also suitable for single people. It is the best solution for a guest room or a small main bedroom. This is a likely reason for it being the most popular size of the mattress.
Negatives: Although larger in dimensions all round, some still find this mattress size to be too small for them.
Alternative Queen vs. Full Mattress Sizes
If you find the Full and Queen mattresses to be too short or too narrow for your liking, then there are the other two options noted in the chart above. Though slightly more costly than the standards, they should still save you money on the next sizes up King and California King.
Rather than go straight to one of these larger mattresses, you would be better to look at the Full XL which is 5 inches longer than the standard Full, or the Olympic Queen, which is the same length as the Queen, but 5 inches wider (so more appropriate for couples.)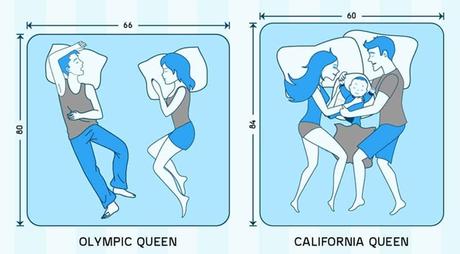 Choosing Between a Queen or. Full Mattress
So, Queen or Full Mattress? What factors should you consider before making your choice? Here are a few things to consider before making your choice, or even before deciding you need to go larger than these to meet all your needs. What are these needs, and are really necessary?
Available Space: This is important, and most designers recommend at least 30″ space all round the bed. Check out our chart towards the top for the recommended minimum room dimensions for each mattress. Keep in mind that these dimensions do not include space for other furniture, such as armoires, dressers, nightstands, etc.
If your bed is for a guest room, then a Full mattress size should be sufficient for individuals. Some people prefer a Queen mattress for guest rooms since this size will suit couples in addition to singles.
Cost: If cost is not a factor then you can use any size of bed that fits into your room. However, for most people, the cost is a factor. The cost of a mattress goes up in price with its dimensions. As mentioned earlier, it's not just the mattress and base/support cost, but the increased cost of all the bedding and coverings. They also jump up in price together with their sizes.
Full vs. Queen Mattress: Which is Best For You?
In conclusion then, Full vs. Queen mattress: which is best for you? What should we ask is which is important for you: single use or couples, price, available room space, other furniture in the room? A consideration of all of these factors should turn your head towards one of these mattress sizes.
The Full may be more appropriate if:
You need the mattress for single sleepers only.
You are on a strict price budget.
The bed is for a guest room where less extra furniture may be needed.
Your room is too small for the extra few inches of the Queen mattress.
**NOTE: A Full XL would suit a taller person.
The Queen Size mattress may be the more appropriate if:
You may prefer the mattress to be suitable for a couple.
Price is less of an issue for you.
The bed is for you or members of your family.
Your room can accommodate it plus extra furniture. A larger room may aesthetically look better with a larger rather than a smaller bed.
**NOTE: An Olympic Queen would give an extra 6″ of width for a couple.
** It should be noted that the Full XL and Olympic Queen sizes are not offered by all mattress manufacturers or vendors.
Full vs. Queen Mattress: Conclusion
Full vs. Queen Mattress or Queen vs. Full Mattress - same things, and this issue is not one that is easily solved. The differences between them may seem small, but they can also be considerable. You wouldn't purchase a car too large to fit your garage, and you shouldn't buy a mattress too large for your room.
So dimensions are extremely important in the bedroom. Your bed might fit, but how about the rest of your bedroom furniture? That is your first issue. The second is who is the bed for? If only occasional visitors or a child, then the Full mattress size should do. If it is intended for couples, then the Queen would be better. Only opt for one of the alternative options (Full XL or Olympic Queen) if cost allows you or if you need the extra length or width. The choice is yours.