Prateek is one of the most dynamic, lively and handsome young men that I have had a chance to meet when I was doing a brief stint at the National Institute of Event Management in Pune. Apart from being a singer who is inching towards becoming a sensation in our country, this lad is also charged with great leadership qualities that I personally got a chance to experience while I was volunteering under him at the Pitbull concert few years ago. This is just another side of his passion that led him to start with his own event company Krazybucket Production. I feel honored to have gotten this chance to interview him and this is who he is…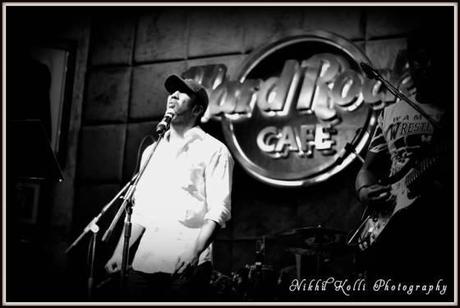 Tell us a little about who Prateek Bhaduri really is…
Well I was born and raised in Pune. Music is something that has been a self discovery and its been a part of my soul. It was a continuous process of growth where I discovered myself and my passion with it. Am a self trained Singer with loads of passion towards music. Singing and performing gives me a high and an opportunity to express myself to the world around me.
When did music become a part of your life?
Its something gifted to me from the creator , so it was always there and I was always a part of choirs etc from as early as 2nd grade in school but I dint take it seriously at all . However, when I was in my 8th grade my want to sing ,perform and form a band grew very strong . I still remember bunking a marathi class in school and running to the stadium to hear my seniors practice some system of a down and metallica covers since they had a band . Its funny that I directly got driven to a heavier genre of music because of the raw energy and feel it had . Also had a huge rap trip happening thanks to Eminem and 2pac's older albums back then. That period in school i used to have a rough book where i wrote some bizarre rap songs.However one of them was pretty decent which i wrote in 10th and that was on the "Gorgeous Indian Political System " . So then I developed this love for Rap /Rock Bands-Linkin Park , Limp Bizkit and Heavy Metal Bands- Metallica, Iron Maiden etc ..I guess they were satisfying both my interests i.e. Rap aswell the expression ,rebellion, anger, energy ,freedom that Rock and metal symbolized .As time passed ,I stuck my guns, Infidels Of Sanity happened and the growth started .Fun journey full of bumpy rides where i dint breakdown when the car broke down ,haha .
How did you realize that this is something you want to pursue?
After visiting some of the gigs around in Pune in early 2000's where there used to be almost a thousand people coming for concerts to see local and other well known Indian bands play on a regular basis and watching these amazing acts when I was just out of school drove me to form my own band and thats when I realised that I want to go all out and be on that same stage where they are or even get bigger .
Was coming out to society difficult? (Pursuing a passion sometimes gets difficult specially if its unconventional)
Society and what they think has never mattered to me . If your mind is positive, your energies are positive and your thoughts are positive then what you do will have a positive effect on society .Our Indian mentality is to think "log kya kahenge ? " .I never have had that thought bother me . Its best to do what you love to give society love ,peace and happiness.
How has the journey been so far?
Pretty good . I would always love a journey full of obstacles and I have had quite a few and crossing them has been fun .
So things went well with my band Infidels Of Sanity , where we grew as Progressive Rock band from Pune,won competitions , traveled around the country doing some college fests and other shows and festivals.Opened for International bands .I remember we had the honor to play in front of Pain Of Salvation ,a big inspiration for us back then, at Chennai for a Pre-Gig Event . We also opened fora German band Fire On Dawson .Then with Livewire we did some good stuff together doing multiple Hard Rock Cafe gigs at Bangalore,Andheri,Worli and also gigging in Lucknow and ofcourse regular gigs in Pune.
Any prior musical training?
No.
Any particular genre that you adhere to?
Rock and there are too many sub genres I like so lets not go there .haha..
Drift Deeper- it has a country touch to it, is it something you find peace in? Also tell us how this concept came in mind- what are your thoughts behind the song?
Well I find peace in any music expressed with utmost honesty and with a want to bring out a message to the listeners.So I can find peace in a heavy metal song and to a love song aswell as a country song . So this is just that Drift Deeper is the first release from the lot am composing and have composed .Each song in the EP has its own shade and flavor .
The kind of projects you are involved in right now?
Apart from Prateek Bhaduri am involved with a superb Alternative Rock Band from Pune called "What Plough ? " ,And another band I have formed myself is called Moonstruck Project .We play Alternative Funk /Blues and Classic Rock..
Apart from music what are your other passions?
Events , Sports and Fitness ,Food
I run an Event Management Company called Krazybucket Production.Its my own baby and I have been running it for over a year doing a few decent scale events and also have done some gigs. Am focused on conceptualising the things am passionate about in the form of events so that the people, clients and investors can cherish the experience. Though I havent done much with Krazybucket Prodcution because of the time spent in Music in times to come Krazybucket Production will get its due as far as more visibility and commitment goes from my end.
Sports and Fitness are an integral part of my life : I love yoga, running and gyming .Its another kick and i'd say its far better than the drugs people like to do .haha. I am avid footballer and football lover. I play the sport , follow the game and contribute towards Indian Football in any possible way I can because I know we have the potential to make it big in this sport.In the past I have organised football festivals on a professional scale for local talent to gain from it. Rest I play Basketball,squash ,pool aswell.Runs in the family ,Dad's a sporting phenom so developed the love from him.
We want to know where Prateek Bhaduri comes from? The people behind who you are today….
Well I have a beautiful family comprising of my father whos been a great contributer in his field of work ,has huge respect and has been a fantastic sportsman back in the day with national level laurels in boxing and other sports .My mom whos a teacher and into dance and drama ,shes a classical kathak dancer and executes some brilliant Plays and musicals .Has her own fan following.
My Sister is now settled in the UK and is a very strong dynamic woman and a wonderful human being. Shes in the media, marketing and advertising industry in the UK and is head marketing manager in her organization. Also my brother in law is a huge inspiration ,hes an NRI and is a part of the British Army and the way hes gone about with his life inspires me .
Have alot of friends going back to school , they all contribute in my happiness in some way or the other even if we cant meet all the time. Some close friends have been strong contributors to believing in the artist that I am and its because of them I have had a lot of positivity and greater belief in my abilities.
What are your future goals?
Launch the EP , Tour around the country spreading my music to as many people as possible ,working on an album and achieving greater heights in this journey and accomplish greater endeavours .
How is it that you find yourself unique to others in the same industry?
I am fearless and dont give a damn to what critics say and others say . I express myself on stage , express myself with my music .
If you believe in your music and connect with your audiences no competition in the industry can stop you from growing .Those who have tried to stagnate my growth I have smiled back at them with love .
Anyone/ band in particular that you really idolize?
Quite a few man, back in the day Angra this Power metal band was a huge influence, Iron Maiden, Dream Theater, Riverside, Tool ,Stone Temple Pilots, Creed,Pain of Salvation .Can go on and on they are just so many.
Message to those who are walking the same path:
Stay honest to yourself and believe in yourself. Keep working hard and enjoy this journey full of sweat. Dont care much of what haters have for you or to say to you .Just smile at them .
And now that you all know him, go and find out what Drift Deeper is all about.
So if you are lucky enough to be living in Pune, go catch him at one of his gigs. Info available here.