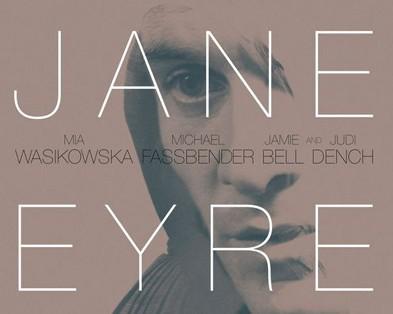 Jane Eyre poster

After eighteen movies and nine TV series, news that another Jane Eyre film adaptation is hitting UK cinema screens this weekend may not set heartbeats racing. But a slew of rapturous reviews for director Cary Fukunaga's simmering adaptation of the Charlotte Bronte 1847 novel could send blockbuster-weary film fans flocking to their local cinemas.
Excellent lead performances of Mia Wasikowska as Jane Eyre and man-of-the moment Michael Fassbender (as Rochester) have seen many critics herald this as one of the best Jane Eyre adaptations ever. David Sexton suggested in The Evening Standard that the perpetual updating of the classics is necessary since anachronisms "leap out" so quickly from adaptations. Whether technical, stylistic, or even spiritual, each reveals itself – in contrast to the timeless original – as "products of their own brief era". So, what does the latest effort illuminate in Bronte's novel?
Understated chic. The Daily Telegraph's Tim Robey was impressed by the muscular reserve of the direction. Fukunaga, brought to notice by his pulverizing, much acclaimed Sin Nombre, is content to allow the costumes, the eerie bluish light and the cinematography to assume their proper prominence. "'Have Judi Dench, won't make a fuss of her' might be his motto." It is, however, the central duet by which the film really soars. Wasikowska and Fassbender leave the 1944 Welles/Fontaine version for dead. Robey warned that those expecting conspicuously gothic trappings – your gloomy stairways and timely thunderclaps – might be disappointed, but all in all "Fukunaga's delicate artistry leaves it hard to ask for much more."
Reader, buy a ticket. A masterly job is done here of turning a beloved work of classic literature into a movie, cheered leading critic A.O. Scott in The New York Times. It's neither too hot – a "radical update" – nor too cold – aiming for "middlebrow cultural respectability." Starting some half-way through the book with Jane's wild flight from Thornfield Hall, Fukunaga tells much of the story in flashback. Moira Buffini's script "trims and winnows some of Bronte's empurpled passages" but preserves the most salient elements of the author's language. Fassbender's Rochester seals the deal, wolfishly embodying "a thinking-girl's half-inappropriate crush object."
Jane of all Janes. Although some critics have been perturbed by the quite excessive handsomeness of the leads (the novel calls for a "small and plain" Jane and a "neither tall nor graceful Rochester"), Antonia Quirke of The Financial Times revelled lyrically in Wasikowska's performance: "Pale, pale face spaced-out in a stupor of existential loneliness. Eyes the colour of trodden October leaves. And then, within a moment, the shape of her mouth begins to look like the most beautiful thing you have ever seen and her presence becomes emotionally overwhelming." For once, Rochester must defer the screen to his governess.
Plain after all? Not all were won over. The Guardian's Peter Bradshaw admired for the most part the film's intelligence and stately pacing, but felt the major set-pieces – some of the most dramatic in literary history – to be undercooked. It lacks "the thunderbolt and lightning-clap of passion." Chris Tookey of The Daily Mail agreed that Fukunaga "failed to exploit the suspense of the spooky elements" and felt the whole enterprise to be "dry, drab, and a little dull."