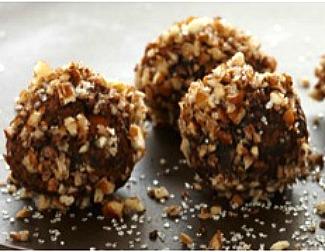 Source: Duncan Hines
These days I am obsessed with bite-size desserts (think cake pops, truffles, mini cupcakes). Perhaps it's the notion that smaller = less guilt (e.g. when I tuck into and polish off an entire slice of cake versus a single bit of dessert). So, in honor of the mini dessert, this week's Make Me, Bake Me is a fudgy, nutty bite of pure deliciousness. These rich, decadent fudge balls are the perfect ending to any meal, although they're so delicious you may fall into the Lay's Potato Chip phenomenon and not be able to eat just one.
To boot, these little confections make great holiday favors. Throw a dozen in a decorative plastic bag, tie up with festive ribbon and, holy Martha Stewart, you've got the perfect holiday gift!
Ingredients
1 pkg Duncan Hines Fudge Cake Mix
1 cup finely chopped pecans or walnuts
1 tbsp rum extract
2 cups sifted confectioners' sugar
pecans or walnuts
1/4 cup unsweetened cocoa powder
Baking Instructions
1.   Preheat oven to 375 °F. Grease and flour 13x9x2-inch baking pan.
2.   Prepare, bake and cool cake according to package directions.
3.   Crumble cake into large bowl. Stir with fork until crumbs are fine and uniform in size. Add 1 cup nuts, rum extract, confectioners' sugar and cocoa. Stir until well blended.
4.   Shape heaping tablespoonfuls of mixture into balls. Garnish by rolling balls in finely chopped nuts. Press firmly to adhere nuts to balls.
5.   Variation: Substitute rum for rum extract.