It's that time again! I could post a best and worst dressed list, but everyone else is doing that. So instead, I play fuck, marry, or kill with the lovely ladies of the Golden Globes. My choices are based on outfits (duh), whether or not I like said actress, and if I think she can cook me a nice dinner. I do this fairly often. See here and here and here. Okay, let's get started!
Fuck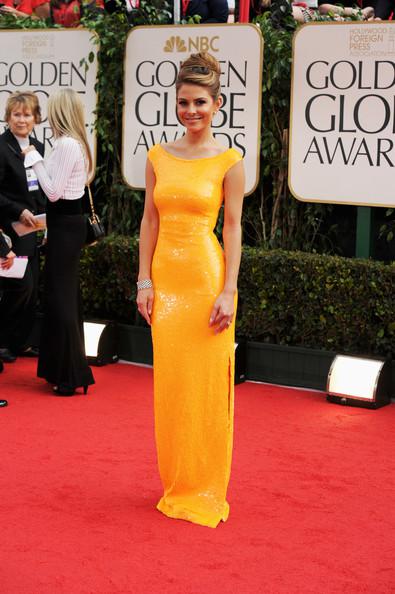 Maria Menounos is looking good in a very hard color to pull off. The fit is flattering (although it's a touch tight in the hips), but it's simple, pretty, and bright.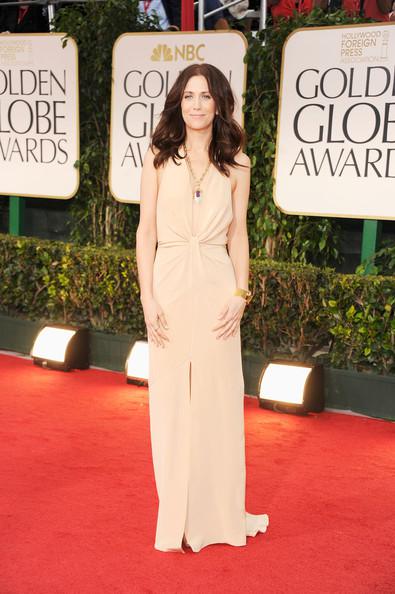 I don't like Kristen Wiig. I must be the only person who thought Bridesmaids wasn't that funny. However, she looks hot here. The darker hair is nice, especially contrasting with her nude dress.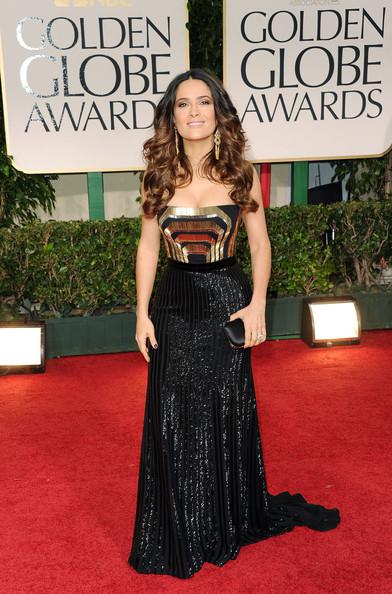 Meow. Miss Salma Hayek. So pretty and teeny. It's kind of absurd how tiny your waist is while your boobs are so big. Anyway, I'll stop crying over my lack of chest and say how awesome your disco inspired dress is. Yeah, I'd definitely take you home tonight.
Marry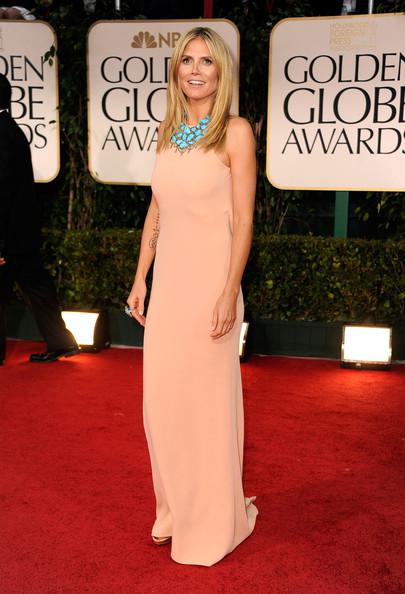 Another nude dress, on Heidi Klum. Maybe Carrie was onto something with her naked dress. I think this is my favorite dress of the evening. This happens to be the perfect shade of nude and the bright turquoise jewelry is phenomenal. And the fit? Not too tight, not shapeless. Just right.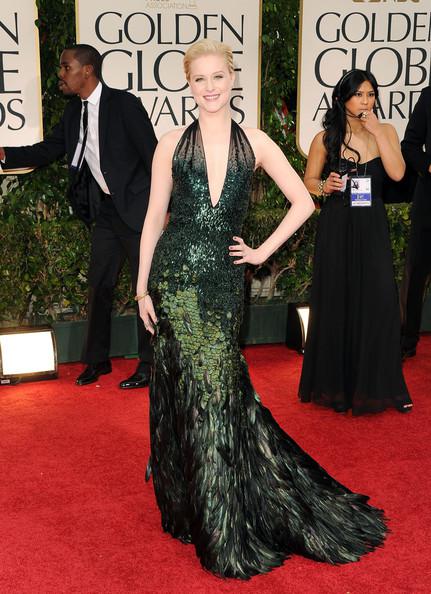 I haven't seen Ides of March yet, so I still associate Evan Rachel Wood with her short (and gross) relationship with Marilyn Manson. But we've all made mistakes, and I can forgive and forget for a dress this gorgeous. It's part lizard scales, part peacock feathers, and all drama and glamour.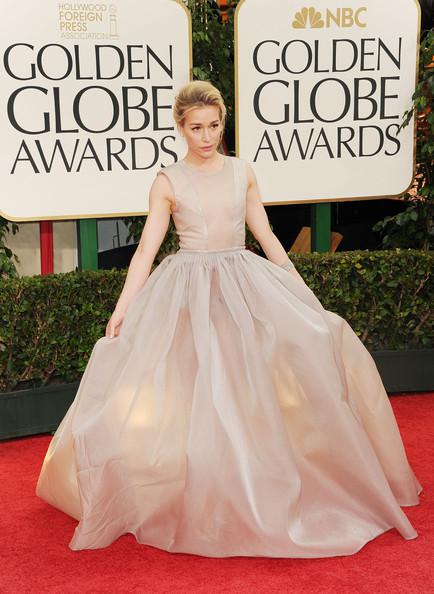 There is not a single picture of Piper Perabo not poufing her dress out and pretending she's a princess. I don't blame her one bit. This is one of those dresses you put on, and then consider wearing to go grocery shopping and to work because it's so pretty you don't ever want to take it off.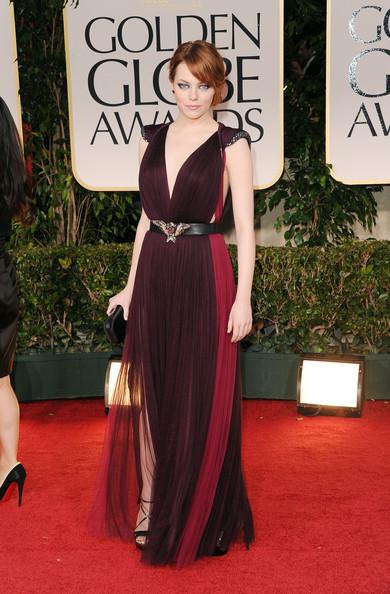 Emma Stone is quite the stylish woman. She always looks good without looking boring, and I'm sure this dress will end up on the top of many best-dressed lists. It's a gorgeous color on her skin tone.
Kill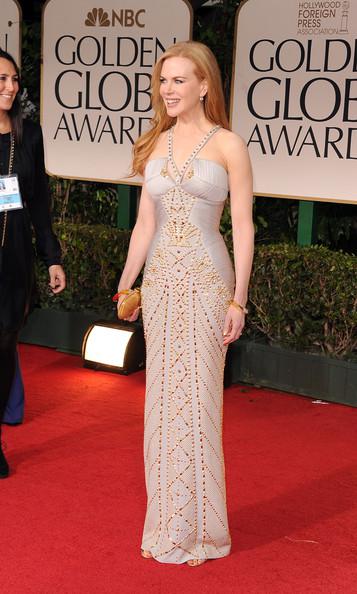 My archnemisisis Nicole Kidman. She's at the top of my list of actresses I irrationally dislike (also, Renee Zellweger and Megan Fox). First of all, I suspect the dress is a Herve Leger bandage dress, which is so passé. She's clearly trying to look sexy and get into my Fuck category, but it's not working, Nicole! Lay off the botox, put on a classy dress, and quit being yourself so annoying.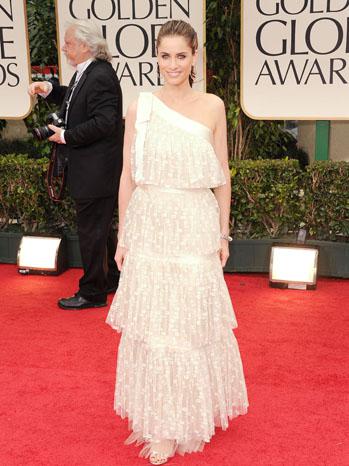 Now presenting Amanda Peet as Little Bo Peep, coming to theaters in the Spring.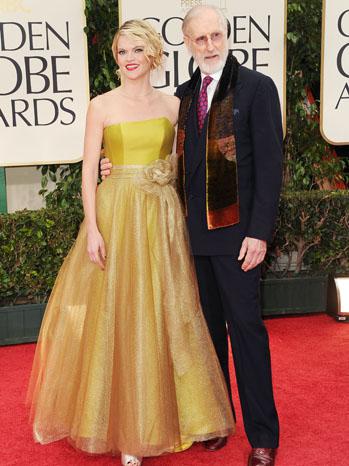 Dear Missi Pyle, this is not your senior prom. Furthermore, wearing a prom dress does not make you appear to be a teenager. That is all.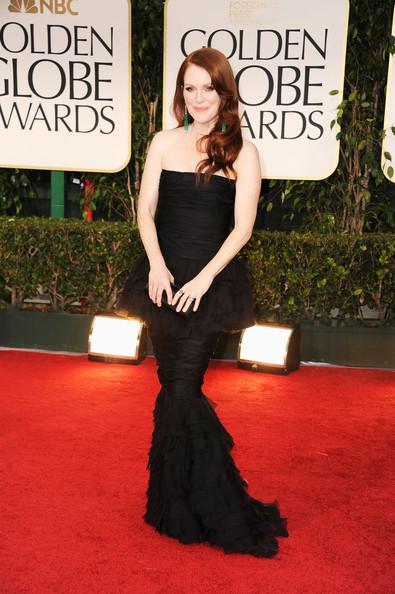 No, Julianne Moore. You can have a weird ruffly bit at the top or the bottom. Not both. Choose. Now.
v
Honorable Mentions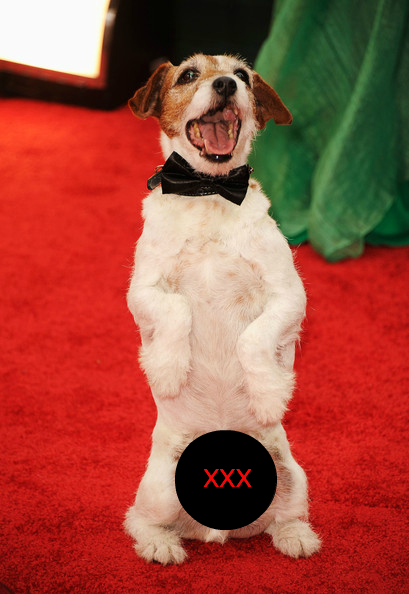 Uggie the dog from The Artist. This is the first time I've seen a dog on the red carpet and I fully support animals at award shows. Especially when they have little itty-bitty bow ties on! Also, I covered his doggy bits for you. This is not that kind of site, folks!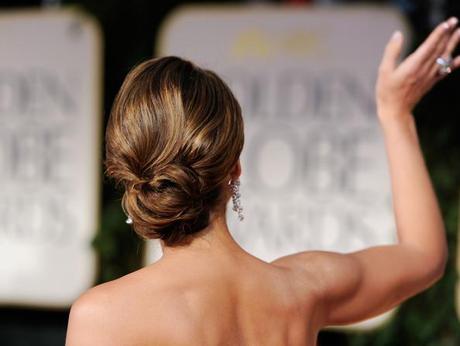 Damn. I thought this was an award show, not a gun show. Jessica Alba, I salute you and your perfectly toned arm and back.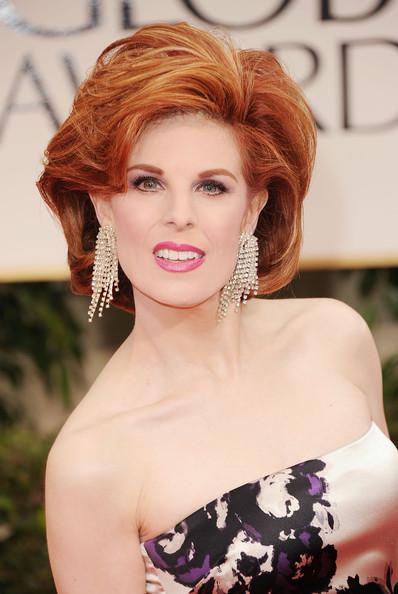 Kat Kramer wins for worst hair AND makeup. I'd never heard of her before the awards, and let me say, this is not the first impression you want to make.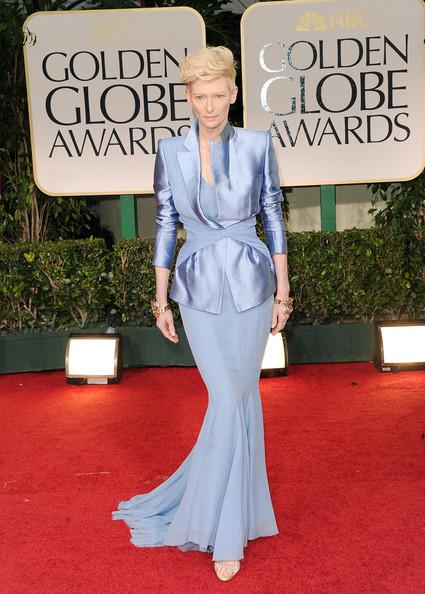 While I can't get completely onboard with the hair, Tilda Swinton is one cool chick and this is a lovely outfit.
Share/Bookmark