New Featured Series Video: How to Create a Brand
President of Idea Grove Scott Baradell delivers the disciplines of creating a successful brand.
Plano, Texas – February 14, 2014 – MortgageDashboard released today a new Featured Series video delivered by Idea Grove public relations firm president Scott Baradell. Drawing from personal experience and the success of his own brand, Baradell demonstrates how loan officers and entrepreneurs can create their own personal brand experiences.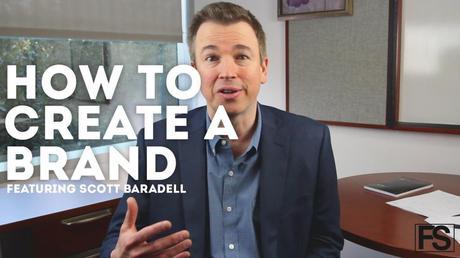 MortgageDashboard asks the following questions:
What is branding and why is it important in modern business?
How do we brand ourselves?
How does design play a role in branding?
What is social presence?
How can we manage our own brand?
About Scott Baradell
Scott Baradell, president of Idea Grove, oversees one of the fastest-growing and most forward-looking public relations and inbound marketing agencies in the southwestern United States. Idea Grove focuses on helping technology companies reach media and buyers; and its clients range from venture-backed startups to Fortune 200 companies.
Scott launched Idea Grove in 2005 along with his groundbreaking blog, Media Orchard. He has been a consistent innovator in the public relations and marketing space. Scott was among the first to understand the role of blogging in audience building. He developed a system that integrates public relations, content creation, social and search marketing, and conversion rate optimization into a program that produces hard-dollar results for clients.
Scott's work on behalf of Idea Grove clients has won him recognition as the PR Professional of the Year in the Golden Bridge Awards and as a finalist in that category in the PR News PR People Awards. He has also received awards for his work from the American Marketing Association, Public Relations Society of America, Associated Press Managing Editors of Texas, International Association of Business Communicators and Texas Public Relations Association.
A frequent speaker on marketing and public relations topics, Scott has spoken at gatherings including the Internet Summit, Dallas Digital Summit and PRSA Southwest District Conference, and to groups such as the Social Media Club of Dallas and PRSA's Fort Worth and Oklahoma City chapters.
Before starting Idea Grove, Scott served as the senior corporate communications executive for Fortune 1000 companies in the media and technology industries. He also co-founded Brightpod, a venture-funded technology consulting company acquired in 2001 by inPhonic.
Scott maintains an APR designation from the Public Relations Society of America. He has an MBA from Southern Methodist University and a bachelor of arts degree from the University of Virginia.
Video Transcript
What is branding and why is it important in modern business?
Scott: "Traditionally when we've talked about branding, we've referred to products or companies that are a branch (which is really a connection to their customers on an emotional level). It's connecting to their hearts. We know that Nike sells shoes, but when you think of branding- because of their successful branding that Nike has done. We don't think about that old pair of sneakers in the back of the closet, we think about courages and heroism. These are all traits that we want to be associated with. What's new in terms of jargon and parlance and how people is talk is- you've probably heard the term more recently-
personal branding
. That's just taking this whole idea that you can take this connection that people can identify with and apply it on a personal level, a one-to-one basis. If you go to a cock tail party and you leave a good impression with people, and you leave the party and four or five people say "that's a good guy, I bet he's a good salesman" or "he's a teacher; he really seems to care about his students", well, that's personal branding. You might think it's just about being yourself but that's a big part of what personal branding is. I think it's most useful as a term to think about online how we authentically present ourselves in a focused way that gets us noticed."
How do we brand ourselves?
Scott: "So how do we brand ourselves and what are the tools we use to brand ourselves? I think the danger in figuring out what tools we use to brand ourselves- to go back to the cocktail party, if you flip from person to person at the cocktail party so no one remembers your name when you leave because you didn't spend enough time- that can carry over in a negative way in terms of how you present yourself online. The tools are all the websites, social sites that you can be part of or create, but the key is to focus in on the handful of tools that you can focus in on that are going to benefit you. To start with, I believe everyone should have their own website or blog. This is distinct from your business. In my case, I have my own blog that I use for personal branding to secure speaking engagements and other things that help in terms of my profile, grow my business. I wouldn't be able to do that as effectively if I tried to do that through my company website. It's important to also have a linkedin presence, a facebook presence, a twitter presence and a google+ presence. Those are the four big 3rd party platforms and you should have a presence on all of those in addition to having your own website or blog. I think if you have those 5 touch points as a starting point and focus on using them on a regular basis- that's a much better way to go instead of just doing a little bit of everything and a lot of nothing."
How does design play a role in branding?
Scott: "If you want to be perceived as professional or creative, or inside-the-box, outside-the-box, more formal, less formal, however you want to present yourself- your visuals need to communicate that. Now don't just grab a stock photo or whatever godaddy gives you in your hosting account- there are so many beautiful, well-constructed wordpress templates out there. Perhaps, spend more money on a logo or a background image- that goes a long way. What you can do then, once you've determined the background and logo style you want- is implement them across all of your different social media pages. There should be a feel, where the colors and fonts and images all feel like they are of the same family and go together. The quickest and cheapest way of doing that is to use the same images across all of your platforms and that's perfectly legitimate. You're not only communicating who you are but you're communicating it in the most direct and consistent way you can. Visually, that's extremely important."
What is social presence?
Scott: "You might hear the term social presence and the question might be, "What is that and how do we create it?" What we're talking about is the imprint we make through social media and community sites and other avenues online. Being there and having your picture isn't enough- you need to be participating. If you take the time to turn your twitter presence into something real- where someone posts something interesting, you reply and say something interesting back or show some commonality and start to find a relationship, that's real and it takes more time. I think it's what you have to do if you're going to make your social presence meaningful. The same if true across all social platforms and on your own blog. If you are taking the time- and I recommend it-  to write a personal blog. Maybe you're sharing some expertise in your industry, maybe you're just giving people a sense of who you are, what you're values are. Sometimes people want to work with you because of your knowledge in an industry, sometimes they want to work with you because you're like them, they just like you. So, there's no right or wrong. Personally, I think it's best to have a mix between personal and professional content, showing who you are and also what you're good at. The key is, you don't just publish this stuff and not engage in your audience who you're lucky to have. When people find your content and post a comment, you comment back. But, not only comment back, go and find that persons blog and read that blog, comment on that blog. If you don't do that and make a commitment to build relationships that way, you're success is going to be fleeting. If you don't value the person who took the time to read and comment on your blog, you're not going to be successful at building a relationship and building an audience. That's what building true social presence is all about."
How can we manage our own brand?
Scott: "How do we manage our brand on social? I guess from what I just said it sounds a little time-consuming. If you're smart about how you use your time, it's manageable. I think you'll find it can be very rewarding- both from a personal and business standpoint. Start by having a strong, relevant follower-base on your social media presences. In other words, when you're on twitter identify the kinds of people that would like to know more about you. Follow them, comment on their tweets, and eventually you'll build up a relevant follower base that is worth spending the time to nurture and communicate with. If you do the research on the front end to build the right kind of audience, and have tools that make managing your presence easier then it doesn't have to be that time-consuming. You're adding to the interactions you have during the course of the day by adding social. I think for most people that sell something- most people in business- you want more relevant interactions not fewer. If you're smart about how you manage them, you can build social into your regular routine."  
Subscribe to the Featured Series to get new videos sent to your email:
Subscribe to the Featured Series!