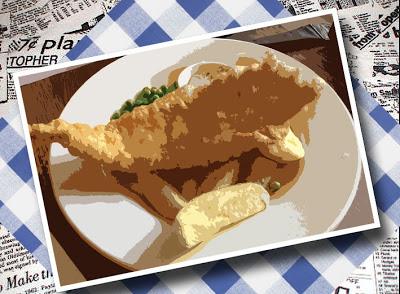 We're dedicating the rest of February to finding the best fish and chip shop in London. 
The London Walks guides have cogitated and debated, and here are their recommendations…


Please feel free to get your own vinegary fingerprints all over the debate. 

Email us at the usual address, leave a comment below or Tweet us @londonwalks.
In the meantime, for more Foodie London stuff go to www.foodieslondon.com. Here's Harry with a hat trick of haddock and hake (!)…
My favorite chippies (I have three, actually) are all popular with cabbies:
1) Seafresh on Wilton Road, Victoria. 2) That one on Theobolds Road that no one ever knows the name. (It's the Fryer's Delight, see Richard and Brian's earlier post HERE.) 3) The North Sea Fish Bar in Leigh Street, Bloomsbury where for a little extra they'll fry your fish in matzo meal.
Bon appetite, Harry.
Julianne also points us to Bloomsbury…
North Sea on Leigh St, Bloomsbury. And if there is a hint of sun grab a chip fork and head over to the "graveyard" park (St Georges, off Handel St) to enjoy.
Harry

Harry is a Cockney, a Scouser, a character - how could he be otherwise? - and a professionally qualified Blue Badge Guide. He'll be at Whitechapel station this Sunday leading his classic Unknown East End walk.


Julianne


Julianne leads the Olympic walk on Saturdays. 




A London Walk costs £9 – £7 concession. To join a London Walk, simply meet your guide at the designated tube station at the appointed time. Details of all London Walks can be found at

www.walks.com

.